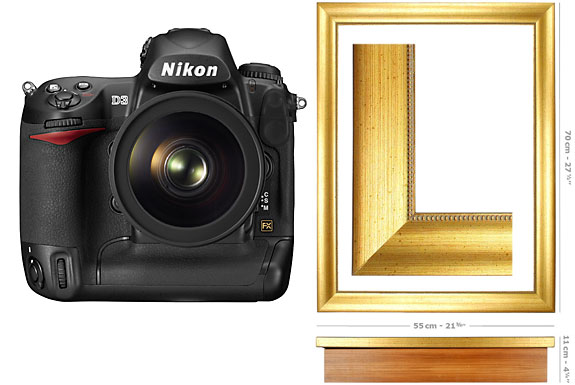 A few retailers are already shipping out the new Nikon D3x. We can hardly wait to get our hands on a testing model!
Along with an ultra high resolution LCD monitor, a 51-point auto focus system, dual CF card slots, an incredible 0.04 second shutter lag and what is almost certain to be outstanding photo quality, one of the remarkable features of the D3x is that it take photos of 24.5 megapixels. 24.5!
How large of a photo can you print with a 24.5mp camera? And how large a print can your current camera produce? Check out our graphic for the answers: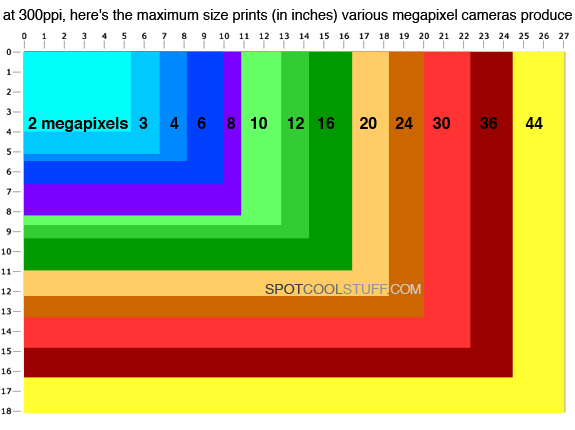 Said in words, a 24.5 megapixel image can produce a high quality print that's as large as 20 inches (51 cm) x 13 inches (33 cm) if you print at 300 pixels per inch.
If you print at 200ppi you can print 50% larger images (eg.
Nikon D3x
photos would print at 30″ x 20.5″) and still get good looking photos. In fact, you probably won't notice a difference between 300ppi and 200ppi photos if you are using
your home photo printer
. You would notice a little difference in the sharpness and color contrast, comparing the photos side-by-side, if you use a good commercial photo developer such as
Snapfish
. Photos printed below 200ppi your prints will start to pixelate.

With that, here are the Spot Cool Stuff suggested cameras for various megapixels:
| | | |
| --- | --- | --- |
| Megapixels1 | Point-And-Shoot | SLR |
1 approximate
2 The Nikon D3x may well take over the role of our favorite 24mp camera.
3 We hope to review this camera in a separate post in the future. In the meantime, if you'd be so kind, please buy us one of these!
Related posts:
Best Nikon Lenses
Nikon SLR Camera Reviews: D80, D90 and D300
The Best Ultra-Compact Digital Camera
Why The Olympus Evolt E420 Should Be Your First Digital SLR
Canon 40D vs 50D