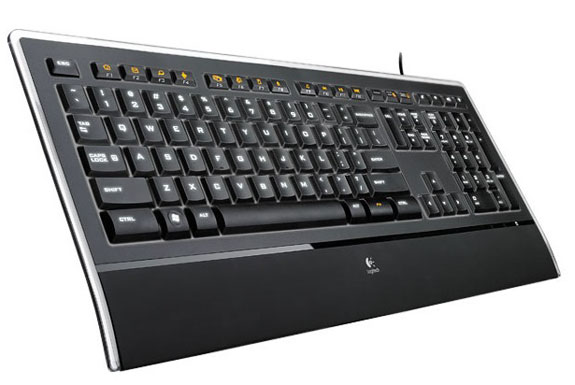 As we type these words we are sitting in a dark room testing out the backlit keys of the latest Logitech Illuminated Ultra-Thin Keyboard.
In the past we've found it useful to have a backlit keyboard on our laptop—while working in a darkened cabin on an airplane, for example. But we don't really understand why Logitech is marketing the "illuminated" feature of this desktop keyboard so strongly. Who are these potential customers who can afford a desktop, a desk, a chair and a quality keyboard but not a lamp?
That this Logitech has an illuminated keys is not a reason to buy it. Here are our reasons why you should:
Logitech's "PerfectStroke" system is deserving of that name. The keys on this keyboard are the perfect size—close enough together for efficient typing and large enough for your fingers to find easily.
The multimedia controls tend to work well with internet applications (such as YouTube) as well as with programs (such as iTunes).
The soft palm rest adds the right amount of ergonomicness (if that's a word) to the keyboard. Some people seem to think there should be more of a palm rest but, for us, this Logitech is so thin that a larger palm rest wouldn't make sense.
Best of all:
The Kensington's sleek design just looks cool. Which is all the more reason to use this keyboard with the lights on.
BUY | COMPARE WITH KENSINGTON & MACALLY KEYBOARDS |