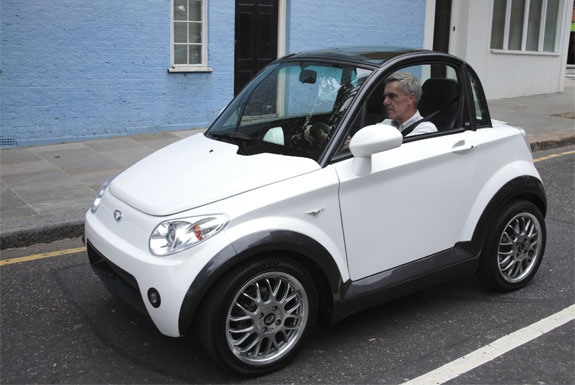 This is not another post about some futuristic electric concept car that exists only in artistic renderings. This post isn't about a car prototype or about a car that's scheduled for production. The MyCar, from the NICE Motor Company, is an electric car that's in showrooms today. You can take it for a test drive and purchase today. At least, you could if you lived in London.
The MyCar was designed as an economical way to get around England's capital city. (Though the basic concept would also work in Singapore, Hong Kong and other dense car-unfriendly urban areas). Drivers of the MyCar don't have to pay the London road tax. They don't have to pay the congestion charge. They don't even have to pay for parking in some areas. And, of course, they don't have to pay England's notoriously high petrol prices. The electricity to power the MyCar for one mile costs around 2p (less than US$0.03). All together, the cost for operating a MyCar around London is about 7% that of a normal car.
And, oh yeah, the MyCar only costs around £9,000 (roughly €12,000 or US$13,000).
But the favorable economics alone would not be enough to get the MyCar featured on Spot Cool Stuff. This automobile also looks stylish. The exterior vaguely resembles a Suzuki X-90, but more cool than that with alloy wheels (standard) and a futuristic profile. We'd also note: The MyCar looks much better without anyone actually inside of it (see photos below). There's something about a fully grown adult in the MyCar (photo above) that makes it looks a little like a clown car.
The interior of the MyCar is retro-cool and fully featured with standard electric windows and mirrors, a radio/MP3 player and LCD display. Options include cooled/heated seats, all-leather interior, removable fiberglass roof panel, Bluetooth connectivity and a GPS system.
Sadly, the MyCar also comes with the drawbacks all relatively inexpensive electric cars currently suffer from. The distance the MyCar can travel on a single charge (60 miles, 96km) would barely get you from London to Brighton. The MyCar's top speed (40 mph, 64 km/h) would make it a rather unfortunately choice for a bank robbery getaway vehicle. Not that you could haul much loot in the MyCar's limited storage areas. The long recharge time (6 to 8 hours) also makes it a virtual requirement that the MyCar owner have a garage.
Given those downsides it seems to us that the potential market for the MyCar—or any of NICE's electric car offerings—is rather limited. But then the first combustion vehicles had a limited potential market too. At the very least, the MyCar is a cool step towards an electric car future.
LEARN MORE | FOLLOW US ON TWITTER |
Related posts & pages:
Aptera Electrifies The Race For The Car 2.0
Cool Cars
Solio Solar Universal Hybrid Charger