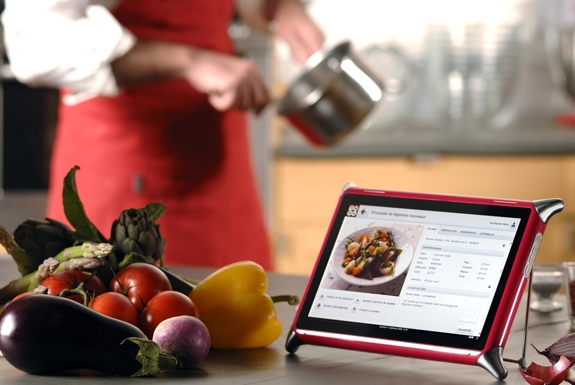 If you are a cook and a gadget lover then chances are high that you've used your tablet computer in the kitchen. Tablets make outstanding kitchen companions. They can serve up nearly limitless recipes, cooking tips, instructional videos, background music and means for digitally sharing your culinary creations with the world, all in a device that's significantly smaller and lighter than your typical cookbook.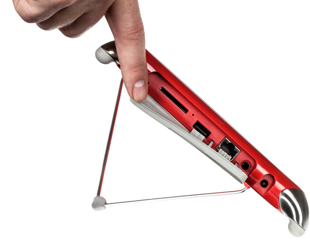 Into that nexus of computer and cooking enters the QOOQ. It's the first tablet computer designed specifically for kitchen use. Being food-centric, the QOOQ is also the first (and, so far, only) tablet computer designed and made in France. (Indeed, it comes in a French-language version as well as English.)
So should this dual-core processor, 8 gigabytes tablet computer become your next kitchen gadget? Our look at the QOOQ's main pros and cons:





QOOQ Cooking Tablet Pros
Access thousands of interactive recipes (many not found elsewhere) from more than 100 high-end European chefs. Recipes will adjust the amount of ingredients needed based on the number of guests you are cooking for — a very cool feature! That said, there are many more quality recipes out there than what's available on the QOOQ.
Water-resistant exterior lets you operate this tablet with wet hands and use it around the sometimes-messy chaos of cooking.
The instructional videos are genuinely helpful, especially for mid-level cooks looking to up their game.
Attractive design with a built-in stand and slip-resistant rubber-tipped feet that lift the QOOQ above wet counter tops.

QOOQ Cooking Tablet Cons
A proprietary Linux operating system greatly limits the usefulness of the QOOQ to what it can do out-of-the-box — and no more. Unlike iOS and Android tablets, there are no apps you can download. You can use the QOOQ for basic emailing and web browsing, but using this tablet for either is a decidedly sub-par experience.
Expensive for what is really a unnecessary luxury product — US$400 or €355 in France (and elsewhere in Europe). "Premium access" to the expanded recipe and video library costs extra.
Sub-optimal build quality. The QOOQ's price tag says it's expensive. The flimsy construction and plastic-y feel says otherwise.
The screen is occasionally unresponsive, which can be incredibly frustrating, especially when rushing between consulting the QOOQ and managing a busy stove top.
Merely adequate display quality. The 10.1-inch capacitive TFT LCD is good enough, but the 1,024 x 600 resolution pales in comparison virtually every other compatibly-priced tablet.
There's no camera for, say, sharing photos of your kitchen creations.

There's limited internal storage — only about 1.5 GB worth — which goes quickly if you download a lot of videos. Fortunately, there is a slot for SD memory cards.
It's heavy, weighing in at 857g (1.89 lbs). Though being designed for use in the kitchen, the QOOQ is a tablet you likely won't be carrying around too much.

Our Verdict

Rating:
Languages available:

English, French

Price:

US$400 / €340

Reviewed by:

Review Summary:
We really wanted to love the QOOQ cooking tablet. But the manufacturer's decision to go with a Linux OS instead of developing an Android-based tablet strikes us as, well, "qooq-y." Add to that the expensive price tag and underwhelming display and it's impossible for us to recommend the QOOQ to anyone but a serious cook who doesn't want a tablet for any other reason other than use in the kitchen. For everyone else, we suggest buying a good tablet (like an iPad or Samsung Galaxy Tab), pairing it with a quality waterproof case (we're partial to those from Lifeproof) and then download with some good cooking apps.
published: 23 Jan 2013

LEARN MORE & BUY IN FRANCE / ELSEWHERE |




Related posts on Spot Cool Stuff:
Colorful Joseph Joseph Kitchenware
Four Food Items That Look Delicious & Taste Creepy
Tablet Computers for Students
The iPad Mini Versus the Nexus 7, Kindle Fire HD and Nook HD
Match.com vs eHarmony
Elsewhere on the web: