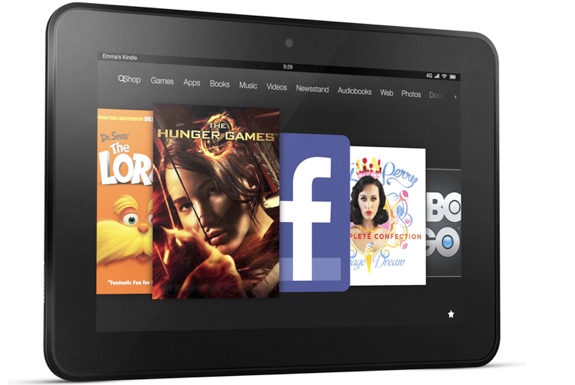 That didn't take long. No sooner did Google announce the Nexus 7, a sub-$200 tablet aimed at directly competing with the Kindle Fire, that Amazon made an announcement of its own. In a move that one-ups Google — and perhaps Apple, Sony & Samsung too — Amazon is launching the next generation of Kindle Fire eBook reader-tablet, the Amazon Kindle Fire HD.
The Kindle Fire HD will be available in three models. Collectively, they go a long way towards addressing the complaints that several reviewers (including Spot Cool Stuff) have made about what is now the "old" Kindle Fire.

Among the new features included in Amazon's Kindle Fire HD lineup:
• An HD quality display with built-in HDMI out port;
• Dolby Audio dual-stereo speakers;
• 10 point multi-touch screen (the previous Kindle Fire had a 2-point);
• Kindle "FreeTime" functionality that can limit kid's usage of a Kindle Fire HD by time or activity;
• Front facing camera with Skype and photo management software
• Access to IMDb data within video play;
• Integrated Audible.com access;
• 16GB, 32GB and 64GB storage options;
• Optional 4G connectivity;
• Improved processor speeds and battery life;
Spot Cool Stuff wishes that the new Fire HD included external volume controls — it's a bit clunky and slow to adjust the volume on the display. And we would have liked to see more improvements with the processor speed and a slot for a memory card. We're also skeptical of the new camera; Amazon isn't saying how many megapixels it has, which probably means it doesn't have many. Finally, like the original Kindle Fire, the new HD version doesn't have GPS navigation.
Still, there's a whole lot to get excited about in the above list, and even more so when you look at the specific Kindle Fire HD models you'll have to choose from:

The New Amazon Kindle Fire HD Lineup
Amazon Kindle Fire HD
The new 7″ model replaces the now-old Kindle Fire. For the original's US$199 price tag, the Kindle Fire HD offers an impressive across-the-board upgrade, including 16GB of storage standard (up from 8GB), 11 hours of continual use battery life (up from 8.5 hours), a weight of 13.9 oz (down from 14.1 oz) and an HD-quality display, among other improvements. A superb value. $199-$249
Amazon Kindle Fire HD 8.9″
The 1.5Ghz dual-core processor, together with the dual-antenna wifi and Silk browser, makes web surfing that's 40% faster than that on a latest-generation Apple iPad. Unlike the 7″ Fire HD, the 8.9″ version displays in 1080p. A direct iPad competitor for much smaller price: $299-$369.
Amazon Kindle Fire HD 8.9″ 4G LTE Wireless
The top end Kindle Fire is identical to the regular Kindle Fire HD 8.9″ model except that it has 4G connectivity. Adding the 4G antenna bumps the price tag up $200, which Spot Cool Stuff thinks is a little steep. That extra cost is very much offset by an industry first: a 4G data plan that's $50 for an entire year. The catch? You only get 250GB per month – enough to check email, download some eBooks and music and do a little web surfing, but not enough to stream an entire movie. 3GB and 5GB monthly plans are also available. $499-$599
published: 14 Sept 2012

LEARN MORE & BUY | JOIN US ON TWITTER / FACEBOOK / PINTREST |
Related posts:
The Google Nexus 7 versus Amazon Kindle Fire
Kindle-Toting Muggles: Harry Potter Comes to your eBook Reader
The World's Coolest Bookstores
The Best Tablet Computers for Travel
The Best Tablet Computers for Students