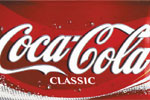 spot cool stuff TECH
Might the next front in the cola wars consist of advertising campaigns aimed at convincing the public to pour a particular brand of soft drink into their cell phones?
It will if Chinese designer Daizi Zheng and Finnish electronics giant Nokia have their way. The two have teamed up to develop a biodegradable cell phone that runs on Coca-Cola.
---