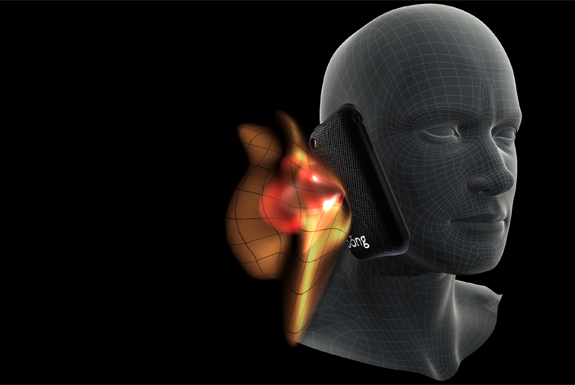 Thirty years from now will every adult have cell phone shaped cancerous tumors around their ears?
Disturbingly, the answer to that question is: maybe.
Some government agencies, such as America's Food and Drug Administration, say risk from cell phone radiation is minimal. Others, such as the UN's World Health Organization, say that alarm bells would make for an appropriate ringtone. France has gone so far as to ban children from using cell phones specifically because kids are most susceptible to radiation.
The wisdom of French lawmakers aside, the truth is that no one really knows with certainty the effects years of cell phone radiation can have. Only after long term studies can there be conclusive answers. At which point it might be too late.
So what's one to do?

If you have an iPhone . . .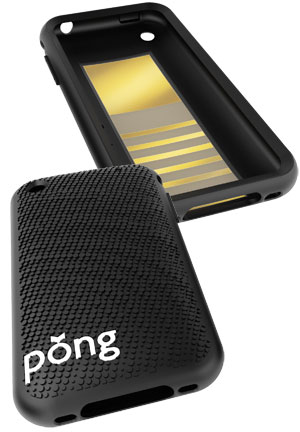 … the better-safe-than-sorry course of action, especially if you have the 3GS model, is to get a Pong radiation shielding case.
The iPhone is a little worse at exposing its users to radiation. Such things are measured in terms of SAR, or the Specific Absorption Rate of radiation within human tissue. The exact SAR for the iPhone depends on what GSM frequency you are using, whether you have the wifi engaged and whether you are talking on the phone or keeping it on standby next to your body. If you make a call in the United States with the phone next to your head the SAR is 1.19 W/kg for the 3GS iPhone and 0.78 for the 3G. By way of comparison, a low-radiation cell phone will have a SAR around 0.50 W/kg, a death trap of a phone is around 1.50 W/kg.
Fortunately, the iPhone is the only mobile for which there is currently an FCC-approved radiation shielding case. Spot Cool Stuff has no independent way of testing exactly how much radiation the Pong case deflects away from vulnerable tissue. One study found that encasing an iPhone 3GS in a Pong decreases the SAR from 1.19 to 0.47—a significant drop.
We can, however, confidentially report three conclusions about the Pong case:
• The case does not decrease an iPhone reception any noticeable amount. If anything, the reception might be very slightly increased.
• The case itself feels great in hand, especially the grippy back. We are less enamored with the oversized Pong logo, the choice of colors (black or lime green) and the way the case makes the side mute switch a bit difficult to access. (For us, none of those drawbacks are deal breakers).
• At US$60, the Pong is expensive relative to other iPhone cases (that don't shield radiation). One of our favorite cases, the CaseCrown, is only $12 and is available in many more colors. Then again, the Pong is a quite the bargain relative to the cost of treating a brain tumor.
LEARN MORE & BUY | FOLLOW US ON TWITTER |

If you don't yet have a cell phone . . .
. . . select a model with a low SAR. A few recommendations: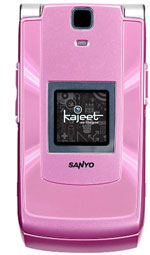 Lowest SAR suggested regular cell phones:
• Sanyo Katana II – Kajeet
Kids are far more susceptible to radiation than adults. So it's a happy coincidence that the lowest SAR cell phone on the market is offered by kid-friendly Kajeet. Parents will appreciate the Katana II's pre-paid service and the optional GPS tracking. Girls will appreciate that it is pink. SAR: 0.22 W/kg

• Samsung Gravity – T-Mobile
Spot Cool Stuff is not a fan of the Gravity's shallow number keys. Otherwise, the Gravity (especially the t459 model and it's hidden QWERTY keyboard) is a very solid cell phone choice. Its excellent reception makes it an especially good choice for rural users. SAR: 0.39

• Samsung Rugby – AT&T
The Ruby is the lowest radiation push-to-talk phone. We also like its durable build and video share functionality. SAR: 0.49 W/kg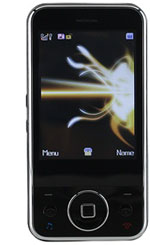 Lowest SAR suggested smartphones:
• Beyond E-Tech Duet D8 – unlocked
The notable feature of the D8, besides its extremely low SAR rating, is that it has two SIM card slots. That allows users to have two numbers on one cell phone—especially useful for international travelers, road warrior business people and people having clandestine affairs. SAR: 0.11 W/kg

• HTC Imagio – AT&T
This excellent smartphone runs WIndows Mobile and has all the usual features: wifi, GPS, Bluetooth, a 5MP camera, etc. It also runs Verizon's V Cast video service and has a built-in stand. SAR: 0.50 W/kg

• Blackberry Storm – Verizon or unlocked
Several of the least safe phones in terms of SAR ratings are Blackberry models, the Curve and the Bold chief among them. So it is a surprise to find the Storm among the lowest radiation phones. Spot Cool Stuff prefers Apple's iPhone though for die-hard Blackberry fans concerned about phone radiation the Storm is easily the best choice. SAR: 0.57 W/kg


Regardless of what cell phone you have . . .
. . . four tips for reducing your radiation exposure (besides using your cell phone less):
1) Whenever possible use a hands-free headset. Spot Cool Stuff loves the small and chic Plantronics Discovery 975 though there are reasonable cheaper options.
2) When you do talk directly on your phone switch which ear you use every so often.
3) When not using your phone keep it as far from your body as possible. Eg, in a coat pocket, holster or bag instead of a shirt or pant pocket.
4) Avoid using your phone in poor coverage areas. When there's only one signal bar your phone has to expend significantly more energy (and more radiation) to make a call.
published: Mar 2010

Related posts:
Reviews of the Best Waterproof iPhone Cases
The Natural Light iPod Alarm Clock
The Guys Who Dressed Up in iPhone Costumes
How to Charge an iPod with an Onion and a Sports Drink
LEARN MORE & BUY | FOLLOW US ON TWITTER
Read more iPod accessory reviews