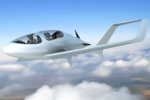 spot cool stuff TECH
Can flying on a passenger airplane be awesome, comfortable and incredibly efficient all at the same time? It can if John McGinnis has his way. He's the Project Manager for the Synergy Aircraft Project, an effort to vastly improve commercial air travel that's as ambitious as it is necessary.
The goal of the Project is to build an airplane that, compared to current offerings, provides passengers with significantly more room, a better view and a more quiet and comfortable ride. The new airplane should be easier and safer to operate. It should be more environmentally friendly and super-efficient to fly using commonly available fuels. And, oh yeah, the aircraft must be highly affordable.
---