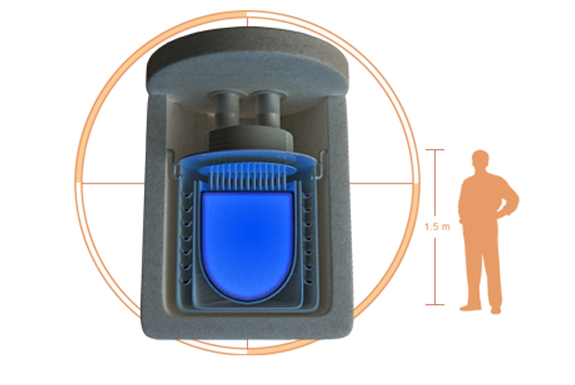 A remote town in Africa, an automobile manufacturing plant and the Smith family next door are among the entities that may soon be able to join the United States, Japan and France on the list of those who have a nuclear power plant.
An American company, Hyperion Power Generation, has developed the world's first miniature nuclear power plant. Emphasis on the past tense of "develop." These nuclear Hyperion Power Generators (or HPGs) are real! Each one is not much larger in size than a person and is designed to be buried deep underground. Conceptually an HPG is more like a really powerful battery—an HPG has no moving parts and requires no human monitoring.
Hyperion claims that the HPGs are completely safe and that there is no risk of them melting down Chernobyl-like (a claim Spot Cool Stuff isn't in a position to evaluate despite that nuclear physics class we took in college). The first HPGs are scheduled to be installed in areas of developing countries currently without electricity. Other markets include large factories, industrial zones and even small towns in the United States and Europe. Once deployed an HPG is not designed to be opened—if an HPG needs to be refueled it is shipped back to Hyperion. If unsavory types were to open an HPG the nuclear material they would find inside would, thankfully, not be weapons grade.
Obtaining an HPG will set you back around $25 million (about €20 million), which is pretty cheap considering that a single module can power about 20,000 homes; the cost comes out to about $0.07 per kWh. Get in line for yours now—Hyperion plans to manufacture around 4,000 nuclear power modules over the next 10 years.
LEARN MORE | FOLLOW US ON TWITTER |
Related posts:
How To Charge An iPod With An Onion, Sports Drink
Arecibo, Puerto Rico: Visiting The World's Largest Radio Telescope
Darwaza, Turkmenistan: The World's Most Beautiful Ecological Disaster
8 Oddities You Can Buy on Amazon.com – really!