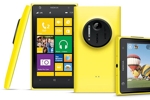 spot cool stuff TECH
There was a time, before phones became smart, that a cell phone was just a cell phone. Then, Nokia was king.
But that was before Handspring came along. And before Palm and Blackberry, the iPhone and Android. Before cell phones turned into smartphones that made Nokia's offerings — which lacked big screens, GPS navigation and app stores — seem, well, dumb.
Well, ladies and gentlemen, Nokia is back!
Truth is, they've been on a path back for some time. But if there was one single event that marks Nokia return to smartphone prominence it might be the moment the company announced the Nokia Lumia 1020.
---