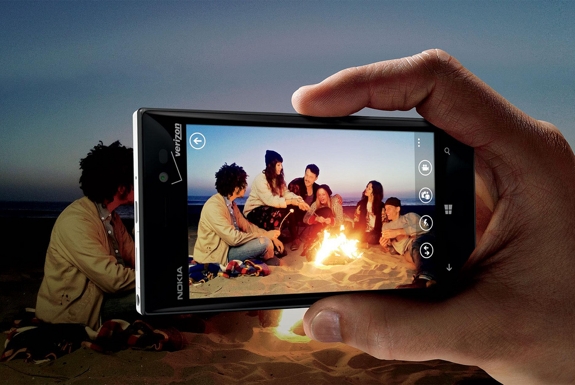 Here's an amazing statistic:
Of all the people living on the planet today who have ever taken a photograph, 90% of them have only done so on a cell phone.†
Even among people who own both a camera and a cameraphone, 70% use the latter as their primary device for taking photographs.
The explosion of phone photography is partly a matter of convenience. But it's also a function of improved functionality. Sensor sizes, processing power and lens quality on cameraphones have all gotten significantly better over the last few years. Yet for all those advances, there are at least three areas in which on-phone cameras are in serious need of improvement: zoom, manual controls and low-light capabilities.
Spot Cool Stuff is still waiting for a smartphone camera that offers a telephoto zoom and SLR-like manual controls. But, hallelujah, we've finally found a smartphone with a camera that's capable in low-light situations: the Nokia Lumina 928.
The Lumina 928′s low-light photography is such a stand-out feature that Nokia decided to feature it in a video:

At the 17 second mark in the video there's a scene of people who, for some unknown reason, are riding around at night on neon-lit mopeds as onlookers are cheering them on. The scene only lasts for a few seconds. But it's worth looking at how different smartphone cameras deal with such tricky lighting.
First, here's a shot from a Samsung Galaxy S4. (Click on the photo to see the shot full-size in a new window.)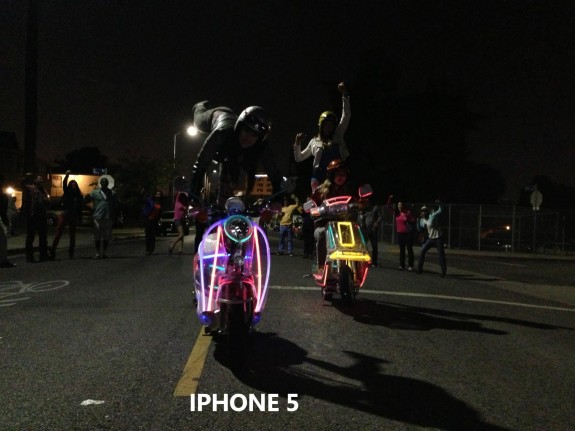 Here's the same scene captured by an Apple iPhone 5: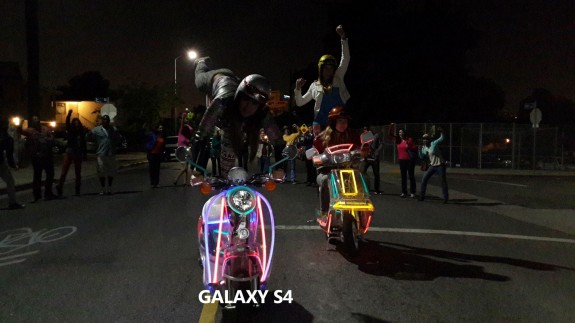 And, finally, the Nokia Lumina 928: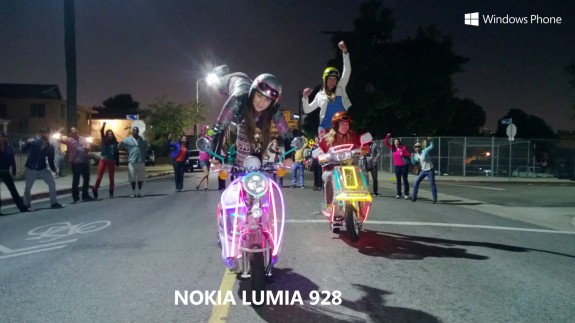 It's worth noting that the Galaxy S4 and iPhone 5 are not lightweight competition. In previous posts, Spot Cool Stuff has praised the camera quality on both smartphones. Yet, in this example, the camera on the Lumina 928 is clearly superior. Not only does the Lumina 928 capture a great deal more detail, its photographs contain a great deal less noise. That's especially apparent if you click on the above photos and view them full-size.




Our astute readers will notice something else about the above pics too: The Lumina 928 captures a larger portion of the scene. (Notice the whole other person that makes it into the shot to the left of the riders, for example.) That's because the Lumina 928 features a wider angle 26mm lens — a Carl Zeiss Tessar lens, to be specific. Its 8.7 MP PureView sensor delivers photos with a 3264 x 2448 pixel resolution.‡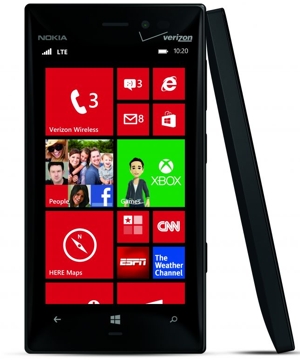 Other camera features on the Nokia Lumina 928 we appreciate include:
• optical image stabilization;
• a xenon flash (brighter than the LED flash on most cameraphones);
• 4x digital zoom;
• a dedicated shutter button on the outside of the phone.
Like other Nokia smartphones, the Lumina 928 is a Windows Phone. Some, including Spot Cool Stuff, are huge fans of the clean look and customization options offered by the Windows OS. Others, including Spot Cool Stuff, bemoan the lack of Windows Phone apps (at least relative to the gigantic selection of apps available to Android and, especially, iOS users).
That said, there are plenty of apps for the Nokia Lumina 928 that help users unlock the potential of the phone's exceptional camera. Among them:
Smart Shoot takes eight photographs while the camera button is held down. You can then easily flip though them and choose the best.
Creative Studio let's you instantly apply Instagram-like filters to your photos.
Cinemagraph takes a snippet of video and converts it into an animated GIF.
With extra apps or without, the low-light capabilities of the camera on the Nokia Lumina 928 is a godsend to the 90% of the population who only take photographs on smartphones. The other 10% will think it's pretty great too.
published: 25 June 2013

LEARN MORE & BUY | JOIN US ON TWITTER / FACEBOOK / PINTREST |
† Also: 83% of all phones in use are cameraphones. The average person takes 8 cell phone photos a day. For more, check out the 2013 edition of the TomiAhonen Almanac.
‡ The Lumina 928 also has a front facing camera that can take 1.2MP stills and record 720p video.
This post is sponsored by Microsoft
More from Spot Cool Stuff:
Liquipel: Waterproof Your Smartphone (Without a Case)
Should You Upgrade to an iPhone 5?
Design Your Own GelaSkins Gadget Skins
Elsewhere on the web: