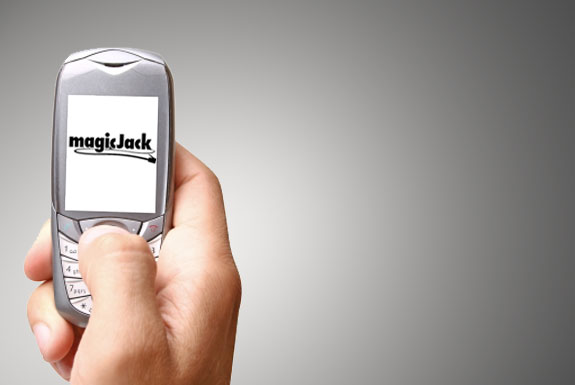 The makers of MagicJack have, for years now, implored you in late-night infomercials to ditch your telephone company landland and use their product instead. Their device, about the size of a deck of playing cards, connects to a computer on one end and to a regular telephone on the other. With a MackJack thusly installed a user can place any phone call over an internet connection; calls to or within the U.S. are completely free.
(Or course, what MagicJack doesn't tell you in their infomercials is that theirs isn't the only internet telephony service. See our comparison of MagicJack, Skype and Vonage. Ooma also has a VoIP product that's more expensive but otherwise superior to MagicJack's).
Starting in the spring of 2010 MagicJack will be expanding their competitive sights to the cell phone companies. A new MagicJack device will allow users to use their mobiles to make and receive free calls.
This new MagicJack has received a great deal of press. The AP even ran an article titled MagicJack's next act: disappearing cell phone fees.
But will the new MagicJack really let you ditch your cell phone company?




The answer is, in a word, no.
What the new MagicJack will do is act as a femtocell, a localized base station that links cell phone signals to the internet. Install the MagicJack femtocell, place a call on your cell phone and instead of the signal going to a cellular tower it will go to the MagicJack and your call will be made over a broadband internet connection (for free!).
The major downside of this system should be obvious: A user must be be within range of their operational MagicJack femtocell for it to work. The new MagicJack will not help you make free cell calls while driving, or walking down the street, or waiting for a flight at the airport or annoying a store receptionist while making a purchase or any other situation in which you'd regularly use a cell phone out in the world. And being mobile with your mobile is the whole point, no?
This is not to say that the new MagicJack is useless. There two useful features to it:
First, let's say you live in a remote area beyond the reach of cell towers. The new MagicJack will provide you with cell phone access. If some one calls your mobile number and you're at home the call will be routed to you via the internet for free; if you're away from home and within cell range you'll receive your call that way.
Second, the new MagicJack will let you cut down on your cell phone minutes by routing the calls you make or receive via the MJ's femtocell through the internet.
MagicJack will not be the only femtocell option. Most of the world's major mobile companies, such as AT&T and T-Mobile, are working on their own products. In the U.S.A., Verizon currently has a femtocell product but it's laughably bad. In Europe, Vodaphone sells a femtocell that works well but is overly expensive.
Comparison to Skype
There is one product currently available that's very inexpensive and has some of the same benefits that the MagicJack femtocell is expected to: Skype Mobile. Skype has an app (for many, though not all, cell phones models) that allows you to use a cell phone to place an internet call via wi-fi. (The Skype solution is technically not a femtocell since a wi-fi signal is used to transfer your call to the internet and not signals on a mobile phone spectrum).
Our chart below compares Skype Mobile to the expected MagicJack femtocell device. The big advantage of MagicJack: You use it with your current cell phone number; with Skype you either need to get a new number, purchase a Skypephone or use it exclusively for outgoing calls. However, Skype mobile can be used with any wi-fi signal (at your home, airport, coffee shop, etc.) and there's no hardware to buy or install. Skype mobile also has the slight added advantage of being available now whereas the MagicJack femtocell device is (as of January 2010) still theoretical.
| | | | | | |
| --- | --- | --- | --- | --- | --- |
| | Product Feature | | MagicJack Femtocell | | Skype Mobile |
| | Cost | | $40/year ? | | $30/year |
| | Works with computer off | | No | | Yes |
| | Works on all cell phones | | Yes (theoretically) | | No, it has to be a phone for which Skype has an app such as iPhone, Windows and Android phones and well as several Nokia, Samsung, LG, Motorola and Sony Ericsson models. Skype for the Blackberry has been expected any day now for the last 10 months. |
| | Able to receive incoming calls on your cell number | | Yes | | No (unless you get a Skypephone mobile) |
| | Wi-fi required | | No | | Yes |
| | Voicemail | | Same as your cell phone voicemail (theoretically) | | No, Skype has voicemail separate from your cell phone |
| | International call rates | | Moderate | | Cheap |
| | Works with any wi-fi connection | | No, only one with the MagicJack femtocell device installed | | Yes (provided, of course, you have the password if needed) |
| | | | PURCHASE MAGIC JACK PRODUCTS | | LEARN MORE ABOUT SKYPE & BUY |