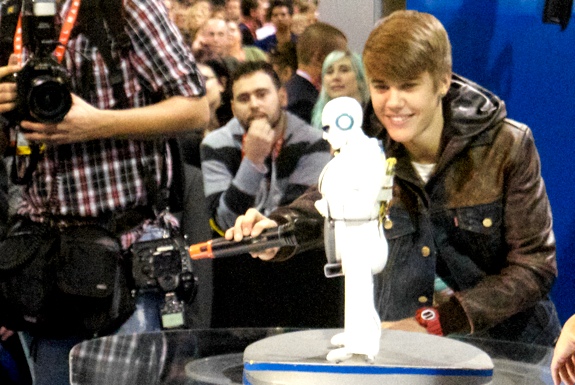 The most surreal moment at the 2012 Consumer Electronics Show—and the competition for that honor is stiff—is surely Justin Bieber introducing the mRobo, a toy robot from the Vietnam based company Tosy.
So what does the teen pop idol have to do with Vietnamese robots?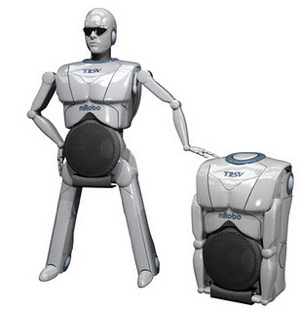 Very little, so far as we are aware.
Yet that didn't stop tongs of proud geeks and self-confessed nerds from descending upon Tosy's tiny corner of the Las Vegas Convention Center and jostling for the best position to get a glimpse of the star. Not that most of the crowd could recognize him.
"Which one is he?" a Microsoft employee behind us asked.
"The one in the pink and grey stripped shirt." a helpful person said.
"No, I think maybe he's the one in the brown hoodie," suggested one one else in the crowd.
"Who's Justin Bieber?" asked another.
As for the mRobo, Tosy describes it as an "18-inch tall entertainment robot."
It isn't as pornographic as it sounds. The robot features 2GB of internal memory onto which music can be loaded via a USB slot. Choose a song for the mRobo to play and it will dance along to the beats. That's more impressive than it sounds given that the mRobo dances using bipedal motion and is able to bust moves similar to those a human would.
The mRobo will even dance to Bieber's new album. Justin told the crowd that it will be out "in a couple of month."
published: 11 Jan 2012

LEARN MORE | JOIN US ON TWITTER / FACEBOOK |


See an overview of the Consumer Electronics Show and the four tech trends for 2012