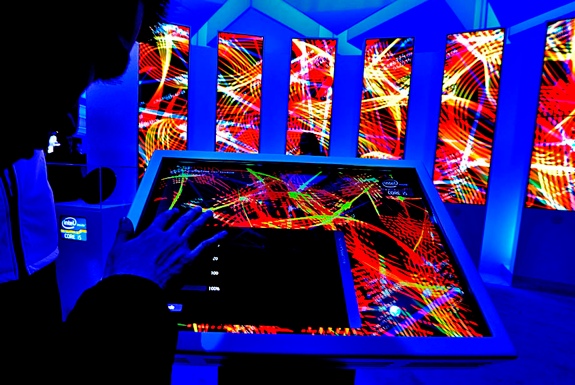 All this week, Spot Cool Stuff will be at the Consumer Electronics Show in Las Vegas. In addition to being the largest trade show of any sort in the world, CES is a harbinger for the year ahead in technology. It's where many electronics companies and gadget manufactures set forth their vision for the new year.
So what new tech will you likely see in 2012? Here's the rundown of the four basic trends we're seeing:




Ultrabooks
First there were laptops. Then netbooks. And now ultrabooks. A trickle of ultrabooks have already come to market. Many, many more on the way.
So what's an ultrabook? It's a notebook that meets certain technical specifications for portability and power. Among them: Being less than 21mm (.83 inches) thick, powering up in less than 7 seconds and having a battery life over 5 hours. More conceptually, an ultrabook is a device that's a hybrid between a traditional laptop and a tablet computer. Lenovo, Toshiba, LG and Acer are all among the companies introducing an ultrabook at CES.

Convergence
Web browsing, television watching, social networking and gaming are merging together. Tech manufacturers are scrambling to be at the forefront of that. LG, Samsung, Sony and Vizio are each announcing televisions at CES with Google TV built in. Apple (which doesn't have an official presence at CES) is rumored to be extending their iOS operating system to traditional televisions. A slew of other companies at CES are launching services to allow you to watch and control television across multiple devices.

Apps and Appcessories
Last year at CES, it seemed every other company was introducing a tablet computer. Plenty of new tablets will launch at this year's show too. But expect 2012 to be less about new devices and more about new ways to use existing ones. The top app makers will be at CES, most for the first time. Many more companies will focus on appcessories—physical objects that interface with smartphones via an app. Three appcessories that especially caught our eye:
• Nukotoys is introducing trading cards that can be read by an iPad or iPhone simply by touching the card to the touchscreen. Hold a lion card to an iPad, for example, and a virtual lion will instantly spawn on the screen. The first two games are scheduled for release in March: Monsterology (see pic, below) for kids older than 7 and an Animal Planet game aimed at children 3 to 7 years old.
• Wowwee will be launching AppGear, collectible toys that have a virtual component. For instance: a real foam airplane that you can take on a Word War I mission via an accompanying app.
• Transgaming is developing games you play on your mobile device and on your television—at the same time. The first title, Ants at a Picnic, involves squishing virtual insects on your TV by flicking them on your smartphone.
For more, see our review of 5 cool appcessory toys currently out on the market.

Battery Power
Electronic devices have increased their power and portability at a rapid pace. But their battery power has not kept up. So while research and development firms work on making traditional batteries better, other companies are coming out with products to fill the void. Those generally fall into two categories:
Adding extra batteries: Many new smartphone cases with supplementary batteries are being unvieled at CES. Also popular are bags, from handbags to backpacks, with batteries built-in for on-the-go charging.
Battery alternatives such as a solar-powered Kindle case. Most promising? PowerTrekk is introducing a portable fuel cell (pic below) that can charge gadgets using tap water!

In addition to following up on those trends, Spot Cool Stuff will be scouring the Consumer Electronics Show for all manner of cool gear and gadgets. To follow along, join us on Twitter or visit our archive of CES posts.
published: 8 Jan 2011