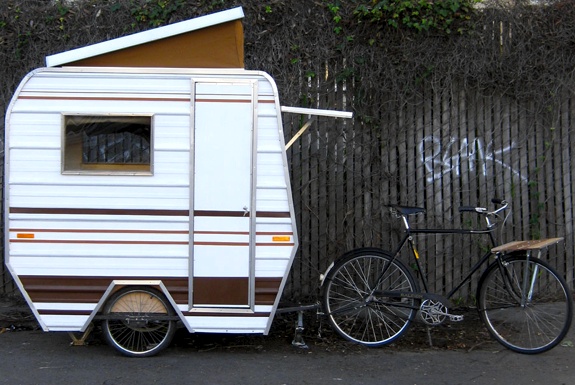 You wouldn't want to pedal very far with one attached to the back of your bike. And you definitely would want to avoid hills were you to try. But, man, would you be styling once you reached your destination. That's because, with a Bike Camper in tow, you'd have a bed, television, couch and kitchenette with you.
A bike camper, sadly, can not found for sale at any of the world's best bicycle stores. Instead, each is a "working sculptures"—pieces of art that are fully functional but that are built to be admired more than used.




One of Cyr's prime artistic interests deal with transportation and the vehicles that have defined the American landscape. The Bike Campers, with their somewhat 1970s-looking facade, fit in perfectly.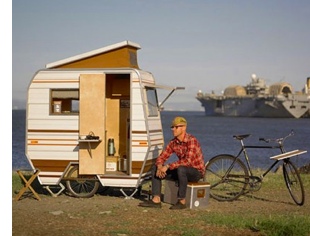 The artist-creator of the Bike Camper is Brooklyn-based Kevin Cyr. Cyr has designed two versions of the Bike Camper (not counting his one built on top of a shopping cart). The first—pictured to the right and immediately below—was designed for a show at the 941 Geary art exhibition space in San Francisco. It's like a bike version of a camping trailer; virtually any bicycle can be used to pull it along.
Cry's other Bike Camper—see the two most bottom photos—could be thought of as the world's most luxurious rickshaw. It features a camper with an overhead bunk bed. The whole thing is built upon a modified bike with two back wheel. For a consumer version of this camper, we imagine having a bike with gears to be essential.
Strap a portable wood burning spa to the top of either camper and you'd have the ultimate glamorous camping setup—even if you couldn't get it very far.
LEARN MORE | JOIN US ON TWITTER / FACEBOOK |
published: 13 Dec 2011

Related posts & pages:
Furniture From Upcycled Shopping Carts
A Review of the Bikamper Bicycle Tent
The Skyver Ortovox Backpack Scooter
Cool Glamping (Glamorous Camping) Travel Ideas