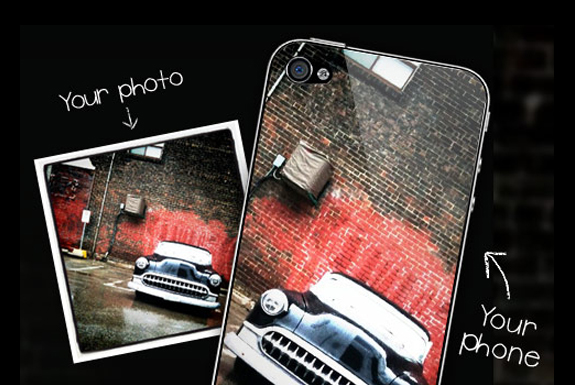 Black is the color of nearly every iPhone (and other cell phones), iPod (and other MP3 players), iPad (and other tablet computers) and Kindle (and other e-book readers). So putting a skin covering on your electronics devices is as much about making it distinctive as about protecting it. Fortunately, GelaSkins has you covered in both regards. Their skins are both durable and personality-full.
Gelaskins are available for a huge variety of gadgets, including virtually every major smartphone, all the recent models of the iPod and Zune and the most popular ebook readers, gaming consoles and Apple MacBooks variations. You can even get a skin for a Magic Trackpad.
For each of those, you can choose from hundreds of pre-designed skins or—and we find this very cool—design your own.

Design Your Own Phone and Gadget Skin
Step 1) Upload a photo or pattern
Start with a pattern, a photo or any other sort of design.
You'll find that a repeating, abstract design is easiest to manipulate. A photo that has a central subject (a person's face or a puppy dog, for example) can work but is a bit more tricky design-wise. The pic needs to have enough background (eg. a garden behind said person's face or puppy dog) to wrap around the sides and/or back of whatever you are Gelaskin-ing.
Also: you need at reasonably large file. GelaSkins recommends it be a 300 dpi image, at least 1600 pixels wide for an phone and up to 4000 pixels wide for other gadgets. We would suggest using images even larger than that.

Step 2) Design the front
One cool feature of GelaSkins' design-your-own functionality: You can zoom, rotate and drag your uploaded image so that it appears on your gadget just-so. The front of the gadget is most important; GelaSkins has you design that first.

Step 3) Design the sides, top and/or back
In the case of an Xbox, more of the skin goes on the top of the console than goes on the front.

Step 4) Check the final design and order
Here's your chance to see what your Gelaskinned item will look like and make sure the edges of your skin-to-be lines up as you want it too. Gelaskins' online preview is impressively accurate. If your skin looks blurry in the preview that means the real thing will be blurry too and you'll have to upload a higher quality image (see step 1, above).




Artist-Designed Phone and Gadget Skin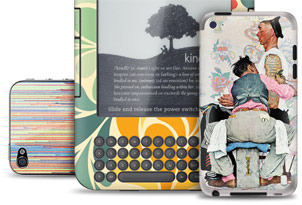 You needn't design your own skin. Gelaskins has a vast variety of artistic skins to choose from. Some are completely pre-designed. Others are (or can be) patterns that you can manipulate through the four design-your-own steps reviewed above.
In addition to skin designs from individual artists, Gelaskins has some great artistic collaborations—National Geographic, Tim Burton and Marvel Comics among them.


Our Verdict
We love the huge choice of artistic skins available through Gelaskins. The variety of artists and styles is unmatched. And if there's not a professional design that matches what you are looking for it is easy to create your own. Whatever the design, Gelaskins' print quality is excellent (provided you use a high quality image to start). Also cool: For some devices (including the iPhone) GelaSkins can provide a screen background to match some of their pre-designed skin (see example pic, below).
In short: Gelaskins get a 10 out of 10 as far as looks go.
We' give Gelaskins another full 10 points for the useability of their skins. They are shipped in peel-and-stick sheets that have the perfect amount of stickiness. The skins will stay in place, but are also removable. Make a mistake when attaching the skin and it is easy to peel it off and start over.
One huge difference between Gelaskins and most other skins: the former are made from 3M Controltac, the same material used to to create decals for the exterior of jet airplanes! (One wonderful feature of using Controltac: the material allows air to escape from underneath it using microchannels, so small air bubbles that you can't push out will disappear on their own). The skins are effective at protecting a device against scratches.
The problem will all skins—Gelaskins or otherwise—is that they will not protect against drops and hard bangs. That's no problem for a relatively stationary object, a video game console for instance. It isn't an issue with a device you are likely to keep in a case anyway, like a laptop. For a cell phone, though, it creates a dilemma. A permanent case provides more protection. But a skin looks better and doesn't add weight or bulk.
If you decide to go with a skin, Gelaskins are in excellent choice.
published: 19 July 2011

LEARN MORE & BUY | JOIN US ON TWITTER / FACEBOOK
Related posts:
AT&T vs Verizon iPhone 4 Comparison
The Cobra iPhone-Linked Radar Detector
The Best Waterproof Cases for your iPod and iPhone
The Scottevest Line of iPad Compatible Jackets