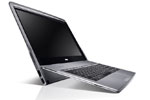 spot cool stuff TECH
Move over Apple MacBook Air. The thinnest laptop on the consumer market is now made by Dell: The Adamo XPS.
Measuring in at a mere 10mm (0.4 inches) thick, and sporting a bright screen and slick form factor, the XPS just looks cool. But is it a novelty item or a netbook worth buying?
Spot Cool Stuff's verdict:
---