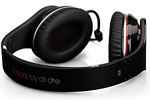 spot cool stuff TECH
The Monster Beat headphones is one of those products that's named after what it truly delivers: a powerful bass. Deeply powerful. Heart-stoppingly, jaw-shakingly powerful. Knock-the-paint-off-your-walls powerful. You get the idea.
There is no set of noise canceling set headphones, and quite possibly no set of headphones of any sort, that delivers music with as much thump. If you are a music purist, delight in your trebles, or a big fan of audiobooks then you'd be better off reading our review of the overall best noise canceling headphones. If you are a connoisseur of rock, techno, hip-hop or some other beat-heavy genre, and relish in your bass, then these are the headphones for you.
Our other impressions of these headphones:
---