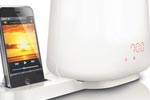 spot cool stuff TECH
Spot Cool Stuff does not understand why most of the world's alarm clocks wake their owners with a jarring buzz or annoying beep. We can imagine some worse ways to be awoken—eg. via cobra bite, bucket of cold water or missile attack—but not many.
Imagine instead being woken by the sound of birds chirping, wind chiming, jungles jungling (or by the radio playing or whatever tune you wish from your iPod) as a soft bedside light gradually brightens over a period of several minutes. That's how one starts one's day with the Philips HF3490 iPod clock radio.
---