Taking photographs of people can be an uncomfortably self-conscious experience, both for the photographer and his subject. With that in mind, here are three items you can pair with your camera that will help you take photos on-the-fly. Each is inexpensive and makes for a great gift of a photographer.




The Photorito
We know it is customary for photographers to ask their subjects to "Say 'cheese'" before taking their picture, but this is ridiculous—a lens wrap that looks like a burrito.
The Photorito says Mexican takeout to would-be thieves but comfy protection to the camera wrapped up inside its cushiony neoprene. Though the Photorito is designed to protect SLR lenses, it is adaptable enough to fit a point-and-shoot or a micro four-thirds or virtually whatever camera you are using for your stealthy lunchtime photo shooting. US$20

LEARN MORE & BUY | ADORAMA PHOTO GEAR DEALS | JOIN US ON TWITTER / FACEBOOK

Cloak Bag
One feature common to nearly all camera bags: You have to take your camera out of the bag to snap your photos. Not so with the Cloak Camera Bag. It has a bottom that unzips and rolls up. At the top there's a slit that provides access to a camera's shutter button. In combination, those features let you shoot photos through the bag. Its excellent for photographers who aspire to be especially discrete—or especially lazy. $50.

LEARN MORE & BUY | ADORAMA PHOTO GEAR DEALS | JOIN US ON TWITTER / FACEBOOK
Shutter Huggers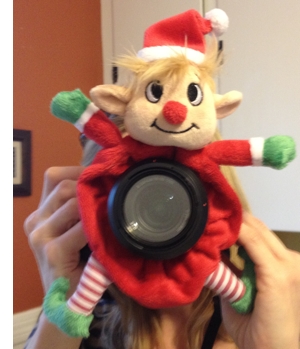 You'd have to be infantile not to notice the camera hidden behind a Shutter Hugger. And that's exactly the point. Each of the eight types of Shutter Huggers consist of a stuffed creature with an elastic hole where its stomach should be. The elastic can stretch to fit around the lens of an SLR camera (though it was also tight enough to stay on the tiny lenses of our Sony NEX). Try taking a portrait photo of toddlers with a Shutter Hugger and little tykes won't notice the camera—all they'll see is the fun, smile-provoking creature around it. $30

LEARN MORE & BUY | ADORAMA PHOTO GEAR DEALS | JOIN US ON TWITTER / FACEBOOK
published: 9 March 2012

Related posts:
The Best Cameras for Travel
Where To Rent a Lens or Camera Online
A Review of the Wifi-Connected Kodak Pulse Digital Picture Frame