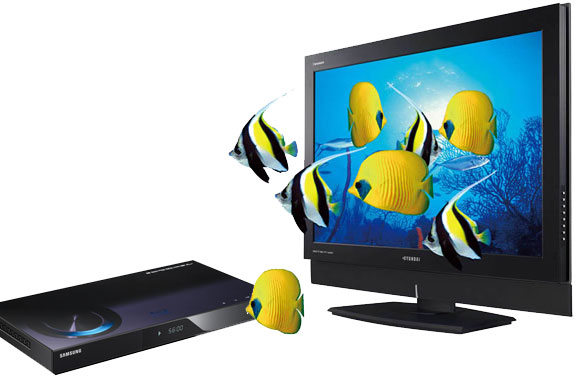 The slew of new 3D movies coming to theaters means that a slew of new 3D Blu-Ray discs will not be far behind. But to watch 3D Blu-Ray movies in your home you'll need a compatible player. So Spot Cool Stuff tried out one of the first mass market 3D Blu-Ray players—the Samsung BD-C6900—and asked Is it worth the $350 price tag?
Here's our verdict:




The Pros:
Movies really do appear in 3D! Pop a 3D Blu-Ray disc into the BD-C6900 and you really can get a full 3D experience at home. No, a movie character throwing a spear at the camera won't be something you'll confuse with a real spear flying out at you from your TV. Compared to watching a 3D movie in a theater, however, the at-home 3D experience provided by the Samsung BD-C6900 is in some ways better. Because in the theater the picture viewed through 3D glasses tends to look at bit dark. With a high-contrast TV (which Samsung's 3D HDTV units are) the picture is more life-like bright.
Non-3D Blu-Ray discs can be viewed in 3D though there's definitely a noticeable difference between a movie that was shot in 3D on regular 2D flick that the BD-C6900 has upconverted. The quality of the 3D upconversion is such that we'd rather see a movie in 2D when watching it for the first time but would absolutely choose the upconverted 3D for future viewings.
Still photos can be displayed in 3D. Store JPEG images from your camera onto a flash drive and you can display them on your TV screen in 3D! The quality of the 3D rendering is about the same, perhaps a little worse, than it is for 2D Blu-Ray discs. This feature is more for novelty than having any practical benefit.
Fast loading. Go from inserting a Blu-Ray into the BD-C6900 to watching a movie on your screen in about 12 seconds.
Good looking. We love this player's slim 1.5-inch (40mm) form and it's deep glossy black finish.
Solid feature set. Even apart from it's 3D capabilities the Samsung BD-C6900 is an excellent Blu-Ray player with 1GB of built-in memory along with Internet@TV and BD-Live functionality.
Mostly comfortable 3D glasses. The glasses for viewing 3D images—sold separately as part of a "starter kit"—are a definite upgrade to those movie theaters provide. The bridge of the glasses are comfortable enough to wear for the duration of a typical 90 minute blockbuster. But try wearing them for the whole Band of Brothers mini-series, for example, you'll feel as if it were your nose that went through D-Day.

The Cons:
Viewing 3D requires a Samsung 3D HDTV set and glasses. The Samsung BD-C6900 will render 2D imagines on virtually any television but to view in 3D you'll need a pair of special glasses and a Samsung 3D-compatible HDTV. At the time of writing the BD-C6900 will not show 3D on non-Samsung 3D sets (though adaptors will likely be available in the future).
No choices of glasses. While we have no large qualms with Samsung's 3D glasses (see above) we aren't happy about no having alternatives to compare them to. Third-party glasses should be available in the future.
No Netflix app . . . yet. An internet update is expected that will allow for streaming movies directly from Netflix; it wasn't available at the time of writing.
Our Verdict:
In any dimension we are impressed with Samsung's 3D technology.
The price tag of the BD-C6900 3D Blu-Ray player plus a Samsung 3D-compatible HDTV set plus viewing glasses does add up to a significant investment. Two years from now we suspect that the cost of bringing a 3D movie viewing experience to your home will be less. But we aren't at all convinced that two years from now the 3D image quality will be better than what Samsung offers right now. If you can afford it, go ahead and jump on the three dimensional bandwagon.
Viewing note: The quality of the 3D experience can vary greatly between movies. As a general rule, IMAX 3D Blu-Ray discs produce the most WOW! inducing picture. Definitely get at least one along with your 3D Blu-Ray player.
Deal alert: Get a free 3D starter kit with any Samsung 3D-ready HDTV and 3D-ready Blu-ray player, plus free shipping, at Best Buy online. Valid until May 1st.

published: 13 April 2010

LEARN MORE & BUY | PICK UP AN HDTV @ BEST BUY |
Related posts:
Reviews of the Best Value Blu-Ray Players
Inside Lost Season 5 on Blu-Ray
The 10 Best Submarine Movies Ever




LEARN MORE & BUY | PICK UP AN HDTV @ BEST BUY | FOLLOW US ON TWITTER