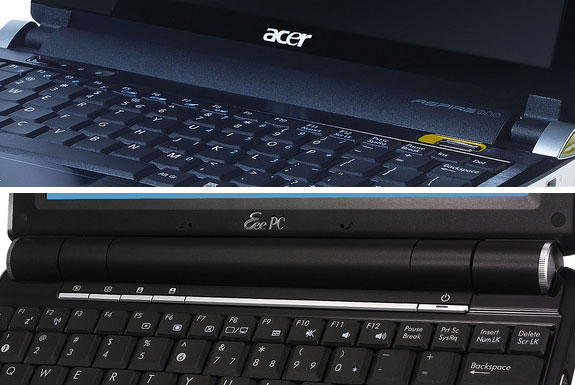 It is amazing the kind of lightweight, long battery life laptop $350 will buy these days. That's the going rate for two superb highly portable netbooks: the Acer Aspire One and the Asus Eee PC. Both are excellent computers but each has some flaws too. Which should you choose? Read on . . .

Similarities
For this review we are comparing the Acer Aspire One AOD150-1165 model with the Asus Eee PC 1000HA. Acer and Asus each make variations of their respective notebooks with different feature sets.
What's amazing about comparing these models is how similar they are. Both have a 10 inch screen, 1024 x 600 pixels, with excellent brightness and clarity. Both come with a 160GB hard drive, a 1.6 GHz processor, 3 USB ports and a multi-card reader. Neither has a built-in CD/DVD drive but with both you can use an external drive to watch a DVD or run a program off a CD. Both laptops are roughly the same size and weight (3 lbs / 1.3kg). And both currently cost $350 through Amazon.com.
In fact, you can not go wrong choosing either of these outstanding laptops. But presumably you will, at most, be buying one of them. To help make the choice here are some areas they differ:

Webcam
Both the Asus and Acer models we tested come with an integrated microphone and webcam. The Asus's webcam is 1.3 megapixels. The megapixels of the Acer's webcam is, well, somewhat of a mystery. There don't seem to be official specs on it from Acer but several unofficial sources put the webcam at a scant 0.3 megapixels. Our own use bared this out. When made a Skype video call with each laptop the Asus's webcam definitely produced the clearer and brighter picture of the two. Both laptops provided sound quality typical of most lightweight laptops.
Advantage: Asus Eee PC 1000HA (by a significant margin)




Keyboard
The Asus has the larger keyboard; it's 95% the size of your typical full desktop keyboard compared to 89% for the Acer. Those with large hands are likely to find the Acer's keyboard a little cramped. So why do we prefer it to the Asus? Two reasons:
First, the Asus has a half-sized right SHIFT key that's placed in an odd spot on the far side of the up arrow (see photo, below). The Acer has a full-sized right SHIFT key. (Though, it should be pointed out that many typists never use the right SHIFT).
Second, the Asus's keys felt a big "plasticy" to us. The Acer keys had a more solid, satisfying feel. After an adjustment period we were typing on the Acer nearly as comfortably as we do on our full-sized MacBook keyboard.
Advantage: Acer Aspire One AOD150-1165

Battery Life
We love when mistakes work in our favor. Acer was supposed to ship their D150 with a 4400mAh battery that would give the laptop about 5.5 hours of plug-free use time. Instead, the initial batch of laptops were sent out with 5800mAh batteries. These last up to 8 hours! At least as of early-March 2009 the better batteries were still being installed, at no extra cost to you, on Aspire One's shipped through Amazon. If you are on the verge of buying an Aspire One AOD150 you should do so as soon as possible!
The Asus, like the Acer, has a 6-cell battery. It supposedly lasts 7 hours. As with all laptops, how much battery operating time you have depends on what you are doing. We used the Asus to surf the internet and work on Spot Cool Stuff at a coffee shop and had it lasted a few minutes north of 5 hours. When we used it for word processing, with the wifi off and all the power saving features activated, we got about 7 hours and 40 minutes of usage time.
Note that both computers have upgraded batteries that can be purchased in addition to (though not instead of) the factory installed battery. For the Acer there's a 9-cell battery that can last 12 hours, for the Asus consider the 8-cell 10,500mAh battery for 11 hours of use!
For discounted batteries check out Laptops For Less.
Advantage: Asus Eee PC 1000HA (unless you buy your Acer now and are fortunate enough to get one of the free upgraded batteries).




Trackpad
While Spot Cool Stuff is a huge fan of both of these laptops we find each of their touchpads flawed, though for different reasons.
On the Acer the problem is that the touchpad has only one key. You can control-click to get the equivalent of a right-click but this can be frustrating to get used to if you aren't already (and not the best user experience even if you are used to it).
On the Asus the touchpad keys wrap around the front of the computer such that you can click on them by either pushing down (like on most laptops) or pushing horizontally (eg in a motion parallel to the desk). Clicking down the keys are very stiff. Clicking horizontally is not a motion people are used to when operating a laptop—some users don't like the adjustment though others seem to prefer it to the click-down method.
Given these trackpad issues we suggest you pair either of these laptops with the excellent, portable, Arc mouse.
Advantage: Asus Eee PC 1000HA

Looks
The Asus comes in two colors: ebony black and pearl white. The Acer comes in four: seashell white, sapphire blue, diamond black and ruby red chassis. And that's not the only advantage the Acer's design has over the Asus. Though both of these laptops are cool looking machines, to our eye the Acer strikes a sleeker profile. It also has a more solid feel. If you do get the Acer beware that the exterior of the diamond black model picks up finger prints easily.
Advantage: Acer Aspire One AOD150-1165




And the winner is . . .
Our more vain side has been encouraging us to choose the Acer Aspire One AOD150-1165, the somewhat more cool-looking of these two excellent laptops. But in the end logic prevails and so our choice is:
Since we always travel with our Arc mouse the Asus's trackpad issues are of little concern to us. And as frequent Skype users we love the better webcam on the Asus and can happily live with its keyboard. Combine that with superb battery life and a solid all-around design and you have a winner. (Note: for $30 more you can upgrade to the Bluetooth enabled 1000HE model).
Of course, there's always a third option: Buy both.

Purchase Acer Aspire One laptops locally in: USA | UK | GERMANY | JAPAN | FRANCE
Purchase Asus Eee PC laptops locally in: USA | UK | GERMANY | JAPAN | FRANCE

Related posts:
Seal Line Computer Sleeve
Watch Your Home TV Channels On Your Laptop From Virtually Anywhere
Canon Portable Printer
Zoom H2 Portable Stereo Recorder