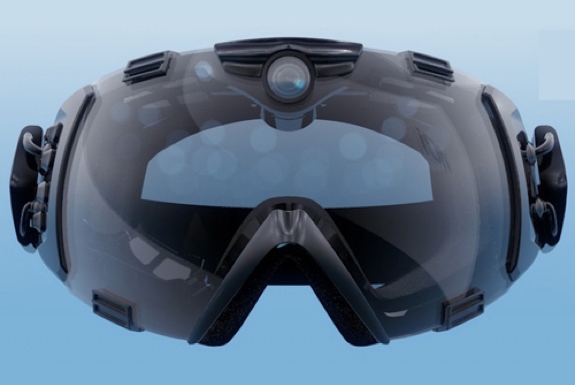 For skiers and snowboarders looking to take first person videos of their runs on the slopes, there are several excellent hands free action cams you can attach onto a helmet.
And there are a few ski goggles with a built-in video camera made a consumer electronics company, Liquid Image.
But never before has a specialist eyewear manufacturer incorporated high-end video capture into a high-end pair of goggles. At least not until Zeal Optics did it with their iON.




The iON Goggle is exactly the sort of excellent performance goggles Zeal Optics usually makes. That's because the goggles use Zeal's proprietary OPTIMUM lens, a high performance polarized lens that is impact- and fog-resistant and offers 100% UV-A and UV-B protection.
In other words: even without its HD video capability, the iON Goggle is great.
With the HD video capability, the iON Goggle is ridiculously great.
The camera takes true 1080p video with stereo sound as well as 8 MP still photos. Those get shot through a wide angle lens with a 170-degree field of view.
But what's especially cool is the useability: There's a small viewfinder inside the goggles, so you can line up your shot before you take it. Large buttons on the outside of the goggles allow for operation even while wearing wet, snow-crusted gloves.
Some other key features of the Zeal Optics iON Goggle:
• Internal lithium battery lasts for 6 hours between charges;
• Micro-SD card slot;
• Social networking site at zealoptics.com, where you can share your photos and videos and possibly win awards for your shots.
The iON will come in two colors—Matte Night Black and Moss Green—and will retail for US$399. It's expected to be available for sale in September 2012—just in time for the ski season.
updated: 15 Mar 2012

SHOP ZEAL OPTICS | JOIN US ON TWITTER / FACEBOOK |
Thanks to @StevenLongpre for recommending this post topic
Related posts:
Our Pick for the World's Best Sunglasses
Have Tablet Computer, Will Travel
Three Surfaces (Besides Snow!) To Go Skiing On