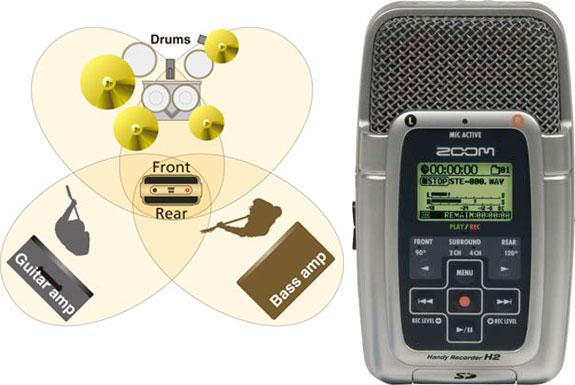 On a recent trip to Asia, Spot Cool Stuff met a fellow traveler who took "audio photographs" instead of your typical visuals ones. She took snippets of sound — bicycles bells chiming in Dhaka, birds chirping in a Thai rain forest, street vendors hawking their wares in Calcutta — as reminders of where she'd been. The sound quality of her recordings was stunning. And being the gadget-heads we are we had to know how she achieved such a professional sound while also traveling light. Her answer:
The H2 portable stereo recorder from Zoom.
The H2 is not that cheesy voice memo taker stereotyped Hollywood executives use in television shows. (Although, yes, it can easily be used for that too). The Zoom H2 is a high-tech digital recording device.
At the center of the H2′s audio magic are its four microphones. Two of the mics are front-facing, fixed at 90 degree angles. The other two mics are rear-facing at 120 degrees. The result is 360 degree surround sound with an emphasis on the subject in front of the Zoom H2.
Any of the four mics can be turned off for a particular recording. Most people will turn the back mics off when recording a speech or themselves talking. However, we've found it better to always leave all four mics on. Because each of the four mics record on their own track. In the post-recording sound editing process it is easy to adjust the volumes of each track to our liking.
The Zoom H2 runs on two AA batteries and is small enough to fit into a shirt pocket. Recordings are saved on an SD card in either WAV or MP3 format. An 8GB CD card can hold about 12 hours of sound.
The controls are very easy and intuitive to use for most recording tasks. Those who want to delve deeper into the H2′s features will find an array of them including a tuner and built-in metronome. The H2 comes with a microphone windscreen and there's a jack of attaching an external microphone.
All of which makes the Zoom H2 the perfect device for recording your podcasts, your kids music recitals . . . or the audio photographs on your trips to Asia.
BUY |