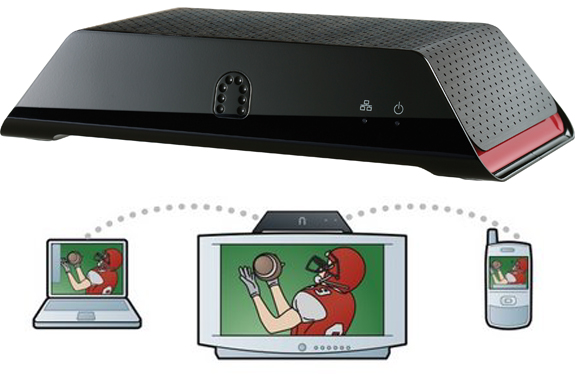 You've recorded the big game on your digital video recorder at home. But you are stuck in an airport lounge half a world away. If you have a broadband internet connection where you are, and either a computer (Mac or PC) or a mobile phone (running Windows mobile), you needn't wait until you get home to watch your recording.
With a Slingbox console anything you can watch on your home television you can watch on your laptop via the internet or on your cell phone via a 3G network. That includes live TV. How cool is that!
The way it works is: You purchase a Slingbox console and then plug your cable box, television antenna and/or digital recorder into it along with an internet connection. Software then lets you control the channels on your television, or payback your DVR recordings, remotely.
That's it. There are no subscription fees. There aren't even any additional controls to learn because Slingbox replicates your home remote control on your computer monitor or telephone screen.
There are three models of Slingbox to choose from depending on whether you are hooking up one device, multiple devices or want HD compatibility channels. The Slingbox works with cable and satellite networks in 16 countries including the U.S., Taiwan, Hong Kong, Sweden, Brazil and the United Kingdom.
Once you own the Singbox console there are no monthly bills or any kind of subscription fees. So once you have one you'll be able to watch the same TV channels you get at home from, virtually, anywhere.