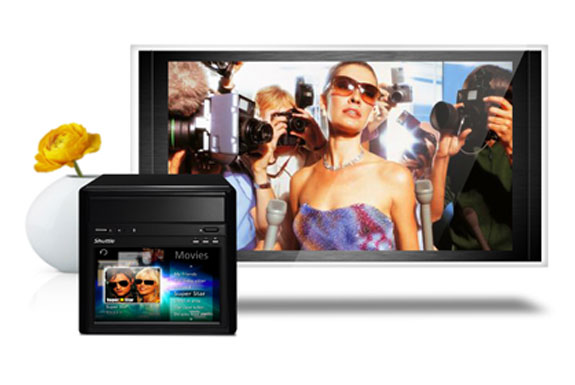 Like an increasing number of other people, Spot Cool Stuff has a PC dedicated to playing media. We use ours mostly for music. (We can't remember the last time we touched a CD—our computer is our stereo system). Others also use a PC as a digital video recorder, taping their favorite shows and then watching them, via PC, on their television.
The main problems with having a media-centric PC is that it doesn't look very attractive and it takes up a lot of space, what with the computer itself, the monitor, keyboard and mouse. The computer fan can also be a bit noisy.
Enter the Shuttle D10.
The D10 is a PC designed to be a media player first and regular PC second. This sleek-looking box is super-quiet while operating and has a 7-inch touch screen on its front. There's no need for an extra mouse or keyboard. All the normal computer applications can be worked using only the screen. (A virtual keyboard pops up when you need to type something). But what's really cool is the proprietary software that comes with the Shuttle D10, software built especially for touch screen use. While running this software the D10 doesn't look or feel at all like a Windows-based PC but like one of the world's coolest stereo systems. This software is easy enough for kids, elderly people or computer illiterates to use.
The Shuttle D10 also comes with surveillance software. Hook one or more video cameras up to the D10 and yourself have a mini security system. Combined the D10 with the Erector Spykee Transforming Spy Robot and you have quiet the voyeuristic combination (and perhaps a lawsuit-in-waiting).
Of course, you can also hook up the usual peripherals to the D10 and use it like a normal PC. The basic unit—with a Celeron chip, Dual Core, 1333Mhz and 4GB of memory—is a very reasonable $500.
BUY


BUY
|