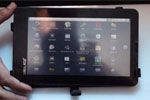 spot cool stuff TECH
As the number of tablet computer models available to consumers explodes it makes sense that prices would drop. But a tablet for the bargain price of US$35!? That's now the reality—if you happen to be a student in India and qualify for a subsidy. But even for the rest of us, we live in the world of sub-$80 tablets.
When Amazon announced their new line of Kindles, the basic model prices out at $79! Of course, that price is for more of an eBook reader. What about a true tablet of the sort that runs Android, a tablet on which you can watch movies, surf the web and play Angry Birds? Those can be found within an $80 budget too.
---