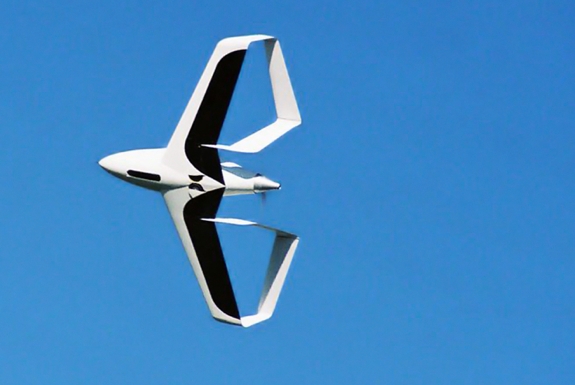 Can flying on a passenger airplane be awesome, comfortable and incredibly efficient all at the same time? It can if John McGinnis has his way. He's the Project Manager for the Synergy Aircraft Project, an effort to vastly improve commercial air travel that's as ambitious as it is necessary.
The goal of the Project is to build an airplane that, compared to current offerings, provides passengers with significantly more room, a better view and a more quiet and comfortable ride. The new airplane should be easier and safer to operate. It should be more environmentally friendly and super-efficient to fly using commonly available fuels. And, oh yeah, the aircraft must be highly affordable.




In short, McGinnis says, "ordinary families should be able travel wherever they want whenever they want safely with a better fuel economy than a car."
It sounds like a dream, but The Synergy Aircraft Project has already built a real-life, flying 1/4-scale carbon fiber model. Based on the data collected from testing that model, the Synergy team expects a full version of the plane to seat 5 people (including the pilot)1 and cruise at a speed of 200 mph (322km/h) with a range of 1500 miles (2414km). And the plane is expected to cost about 10% the price of other similarly sized aircraft. Further—as if that weren't great enough—the plane would run on diesel fuel and fly 40 nautical miles on a single gallon!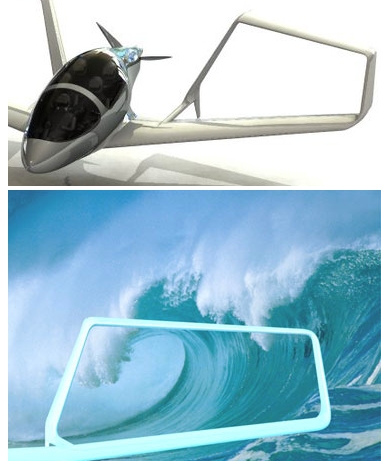 40 mpg for an airplane is incredible. One of the most fuel efficient 5-seat planes currently in production is the Eclipse 550 and it gets a bit over 5 mpg. A 6-seat (two in the cockpit) Beechcraft King Air C90 gets around 3.4 mpg.
The Synergy plane is more efficient in part because of its unusual dual box wing design. Like an ocean wave, the Synergy wing throws air upwards and outwards. Compared to traditional low-drag aircraft, Synergy's 32-foot wingspan is compact and stout, with more area (156 sq. feet) than most high speed, cross country aircraft. Taking a long wing and folding it up, McGinnis said, is like "sailplane origami," providing a higher 'span efficiency' and adding stability, while allowing higher speeds."
The Synergy also places the engine close to the center of gravity and reduces design complexity (and weight) by simplifying the steering—only two moving surfaces are needed to provide a majority of flight control. Spot Cool Stuff, not being an aircraft engineer, doesn't understand the technical details. But you can find a lively discussion of them at the Synergy forum on the HomebuiltAirplanes.com website.
At the time of writing, Synergy Aircraft Project was working on a full-scale prototype model. And they're working on getting funding to pay for flight testing and for moving the aircraft towards production. One source of that has been the Kickstarter crowd funding website—check out Synergy's Kickstarter page and consider joining more than 600 other backers in helping this cool aircraft get off the ground. There's also more info in a video after the photos, below.
updated: 29 May 2012

LEARN MORE: KICKSTARTER FUNDING PAGE / SYNERGY WEBSITE |
1 There's also a 6- and 7-seat configuration
Synergy Airplane Renderings

Synergy Airplane 25% Scale Model




Synergy Airplane Video





Related Spot Cool Stuff posts:
A Review of the Priority Pass Airport Lounge Access Program
Airbus and The Coming of the Transparent Airplane
Cool Furniture Made From Upcycled Airline Meal Trolleys
St. Maarten, Caribbean: The World's Wildest Plane Spotting