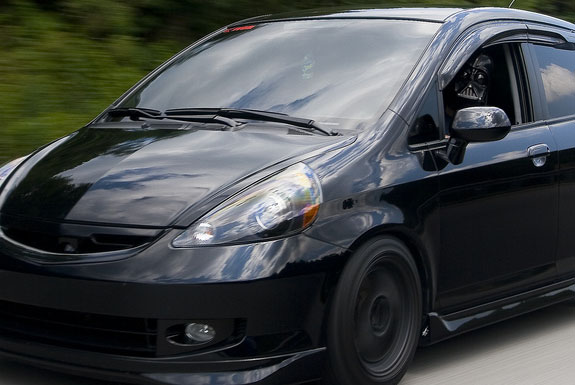 Finding your way by car can sometimes feel like a galactic struggle. And with a TomTom automobile GPS unit it can also sound galactic.
Users of these popular portable navigators can now have the voice of a Star War character guide them to their destination.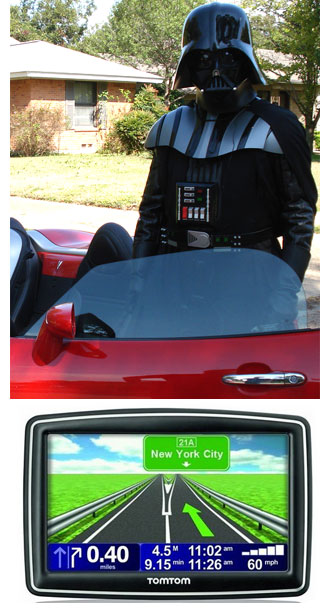 The first voice launched: Darth Vader. In his trademark baritone breathy tones the Dark Side Jedi informs you both about where to turn and who your father is. Depart from your given route and expect Lord Vader to be most displeased. (Check out the video below for a few voice samples).
Drivers who prefer the Light Side of the Force will have three voices to choose from. TomTom is launching the C-3P0 voice in June 2010, followed by Yoda in July and Han Solo in August. No word yet on when the Chewbacca GPS voice guidance will be available.
The Star Wars GPS voices can be downloaded from the TomTom website for US$12.95 each. To use them you'll need a TomTom GPS until. Although, sometimes you just have to turn off your navigational computer, stay on target and let the Force guide you.
If you buy a TomTom GPS unit: We are partial to the high-tech 4.3″ screen TomTom XL 325S unit. At the time of writing it isn't yet available. If you just can't wait to make your purchase, or if you'd like a larger screen, Spot Cool Stuff suggests a 5″ TomTom XXL 540 model.
published: 2 June 2010

LEARN MORE | PURCHASE A TOMTOM GPS | FOLLOW US ON TWITTER |
Related posts:
A Review of the Navigon 2100 Max GPS
The Adrere Amellal Egypt Eco-Resort ← looks like the casaba
8 Weird and Wacky Items Sold on Amazon.com ← buy a Land Cruiser

LEARN MORE | PURCHASE A TOMTOM GPS | STAR WARS STUFF | FOLLOW US ON TWITTER
Read more transportation technology articles