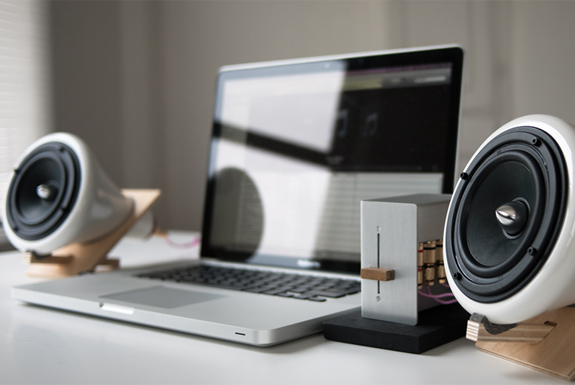 Spot Cool Stuff previously reviewed the Sorapot, a teapot designed by Joey Roth, under the headline Form Meets Function.
The exact same headline would applies to American designer's second commercially available product: The Joey Roth Ceramic Speakers.

The Form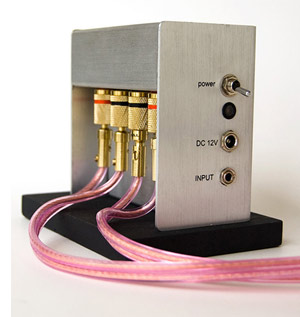 As with his Sorapot, Joey Roth's Ceramic Speakers have a minimalistic, industrial look. This speaker set is the design equivalent of one of those cool nightclubs that have metallic beams and exposed pipes.
The white speakers themselves balance upon birch plywood stands; the result is more sturdy than the photos might make it appear. As for the amplifier, while it may look like it was built with scrap metal it's actually a high tech piece of audio gear. We love how the amp's volume control resembles a toaster lever.
This speaker set's overall visual effect is especially stunning paired with a white or metallic Apple computer.
The Function
Boot up your iTunes and find two similar songs, one with a high bit rate (eg. 320) and one with a low (say, 96)†. Now listen to both tracks at the same volume. Can you hear an obvious difference in quality between the two?
If you have a typical set of desktop computer speakers the chances are the audio quality of both songs will be sound similar. With a pair of Joey Roth Ceramic Speakers the difference is pronounced.
Joey Roth speakers produce outstandingly crisp and detailed audio. That's partly due to their high quality components and partly to the included 16-gauge oxygen-free copper speaker cables. But the true genius of these speakers are in their ceramic casing and cork enclosures. Ceramic and cork are materials that don't vibrate much and so don't add muddle to the speaker sound.
Our Buying Advice
At a mere 15W per channel the Joey Roth Ceramic Speakers aren't going to be waking your neighbors when cranked up. Nor are they going to produce a Dr. Dre-worthy booming bass. If those are qualities you seek consider a pair of high value Logitech Z-2300s. Or, if you budget allows, match up an excellent Polk Audio subwoofer (we're partial to the PRO 500 10-inch) with any good high-wattage pair of desktop speakers.
If you are an audiophile who appreciates the intricacies of music, who values sound quality over sound quantity—and who has $500 to spend on desktop speakers—a pair of Joey Roth Ceramic Speakers will delight your ears. And they'll look good doing it.
published: 20 April 2010


† If you don't already have a Bit Rate column in your iTunes display go to the top menu bar and select View > View Options.
LEARN MORE & BUY | FOLLOW US ON TWITTER |
Related posts:
The 8 Best and Worst Features of the Apple iPad
Reviews of the Best Travel Cameras
JBL's On Tour Portable Speakers
A Better, Gentler iPod Lamp & Alarm Clock
Bose QuietComfort 15: Our Favorite Noise Canceling Headphones
How To Charge an iPod with an Onion, Sports Drink




LEARN MORE & BUY | FOLLOW US ON TWITTER
Read more cool speaker reviews