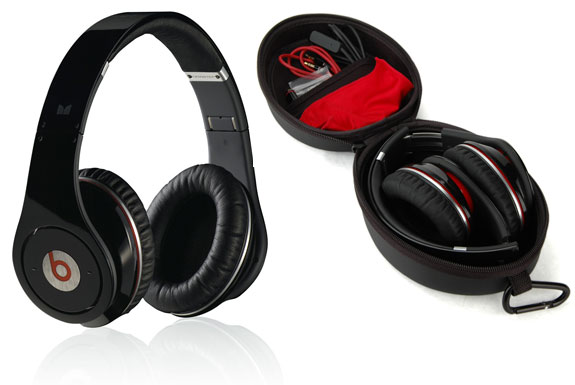 The Monster Beat headphones is one of those products that's named after what it truly delivers: a powerful bass. Deeply powerful. Heart-stoppingly, jaw-shakingly powerful. Knock-the-paint-off-your-walls powerful. You get the idea.
There is no set of noise canceling set headphones, and quite possibly no set of headphones of any sort, that delivers music with as much thump. If you are a music purist, delight in your trebles, or a big fan of audiobooks then you'd be better off reading our review of the overall best noise canceling headphones. If you are a connoisseur of rock, techno, hip-hop or some other beat-heavy genre, and relish in your bass, then these are the headphones for you.
Our other impressions of these headphones:
• Comfort. Excellent. We wish the headband was a little softer but the inside of the ear pieces are comfortably padded (see pics, below) and the ear cups are large enough not to pinch your ears.
• Looks. The marketing for these headphones plays up hip-hop master Dr. Dre's role in designing these headphones. Despite that, we love the sleek black look of the Monster Beats. They come off as sophisticated with calling attention to themselves. These headphones are marketed as being "scratch resistant" and we didn't experience anything to contradict that. However, the Monster Beats are very much not smudge resistant. In fact, they seem to be smudge magnets. (No wonder they come with a cleaning cloth!)
• Portability. The Monster Beats come with a high quality travel case; the headphones fold down to fit within it. Once in its case, the Monster Beats are a little smaller than the Bose Quiet Comfort 2 headphones but not as small as the Quiet Comfort 3s or the Sennheiser PXC 450s.
• Other Features. The Monster Beats come with two cords, one regular cord and another with a microphone and answer button that turn your Monster Beats into a cell phone headset. (The headset functionality works with most cell phones, including the iPhone). Both cords are 4 feet (1.25 meters) long, which is perfect for portable use but for your home stereo you'll need to buy an extension cord.
• Price. There are no other headphones that produce this much base; the Monster Beats' price—around $350 or £270— reflects that.

Related Post: Dr. Dre Monster Beats vs. Bose Quiet Comfort 15 vs Sennheiser PXC 450