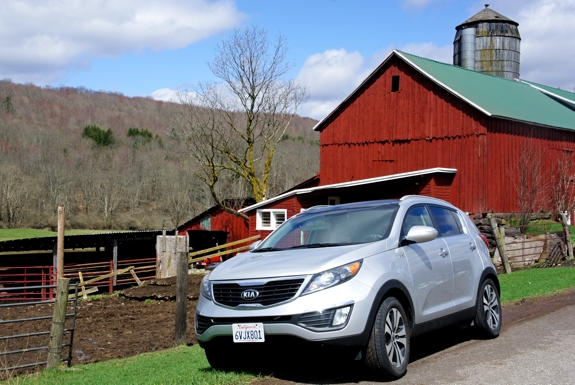 When Kia offered us the opportunity to test drive a 2013 Kia Sportage we were initially hesitant. Our blog, after all, is called Spot Cool Stuff. It's not Spot Ordinary Stuff or Spot Reasonably-Well-Made-Low-End Stuff — "ordinary," "reasonable" and "low end" all being terms we associated with Kia.
Yet the car company kept insisting that we give the Sportage a try (no strings attached). And, around this same time, it happened that we needed a larger vehicle for a family Spring Break trip we had planned to the Catskills region of New York state.
So that's how it came to be that the editor of this website, his two children — an animal-loving 9-year-old girl and a studiously observant 7-month-old baby boy — together with their beautiful mother, piled into a Kia Sportage for an all-American family road trip.
What the whole group of us soon discovered is that the Kia Sportage is anything but ordinary. It certainly wasn't low end. But it isn't quite the perfect family road trip vehicle either. Our week-long test drive review:


2013 Kia Sportage: The Design
The 2013 Kia Sportage, part of the 3rd generation of the model, was fashioned by famed German automobile designer Peter Schreyer (whose previous work includes the original Audi TT).
The exterior look we'd summarize as being less than head-turning but significantly more stylish than the dull form factors that characterize most other compact crossover SUVs. Especially with the alloy wheels of the EX and SX models, the Sportage looks more expensive than its price tag reveals.
The interior design from the driver's seat is where the Sportage really shines. The cockpit is beautifully — and functionally — laid out. All the instrumentation is intuitively located and easily visible. We were especially grateful that the climate controls have their own separate and easy-to-use instrument cluster directly under the touchscreen. (In some other vehicles you have to go through a menu series on the touchscreen to make any climate changes.)
That said, we do have two little nitpicks. The first is that the cup holders in a center console are a little small (though there is a slot for a large water bottle in each of the front doors). The second is that there's no dedicated clock display. The time does usually appear somewhere on the touchscreen, but very small and not in the same place — it's on the left side of the navigation screen, upper center on the radio control screen, etc.1

The back seat is spacious and well designed too. Our 9-year-old loved the fold down center arm rest with built-in cup holders. We had a infant seat base installed on the driver's side and even with the front seat moved all the way back there was enough space to comfortably get baby's car seat in and out.2
The rear cargo space, unfortunately, greatly suffered from the generous legroom the Kia designers gave to the passengers. Granted, our week-long family road trip included a baby who, despite being the smallest in our party, somehow had the most stuff. We were traveling with a large Uppa Vista stroller and full-sized pack and play among other baby accoutrements. Still, packing the back required spending several minutes playing a real-life Tetris game, twisting and turning our luggage pieces until we were able to get everything to fit.
And no wonder. The 2013 Kia Sportage has only 26.1 cubic feet (0.73 cubic m) of storage volume with the rear seats folded up. That compares to 34.1 cubic feet of a Mazda CX-5, for example, or the 34.3 cubic feet of a 2013 Ford Escape, or, better still, the 36.9 cubic feet of storage in the Sportage's sister vehicle, the Kia Sorento (that also offers a fold-down third row of seats).

2013 Kia Sportage: Key Features
If the lack of rear storage disappointed, the numerous features of our well-equipped 2013 Kia Sportage most certainly did not. Some noteworthy among them: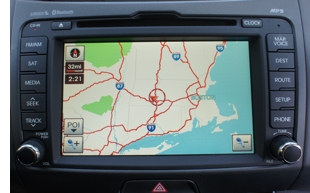 The GPS Navigation. As is the case with most factory-installed navigation systems, the user interface left something to be desired (especially when inputting a destination). But the screen itself was bright and clear. The maps were well designed and easy to read. The system can be voice controlled and is compatible with SiriusXM Traffic. Our 9-year-old loved being able to look at the screen to see the estimated time to our destination (and, as a result, the parents loved not hearing "Are we there yet?" every 30 seconds). Altogether, Kia's nav system is definitely a step above the average competitor's offering.
The rear view camera and backup warning system. Both are standard on the EX and SX models. Generally, Spot Cool Stuff doesn't like when cars beep at us, but the backup warning system in the Sportage was genuinely (if only mildly) helpful when parallel parking. It gives off gentles beep when you are starting to get close to backing into an object behind you, with the beeps getting progressively more frequent, sonar-like, as you keep backing up.
The double panoramic sun roofs. An optional feature on the EX and SX models and definitely worth it. That our 9-year-old raved about it wasn't a surprise. But the baby seemed smitten too, spending long stretches of our drive staring up out up the back sunroof and smiling.

Generous standard features. On the base model — the one that starts at a mere $19,000 — standard features include a Sirius radio, USB and auxiliary jacks, steering wheel, cruise control, Bluetooth wireless with streaming audio and multiple side and front airbags. On the EX model we test drove — it starts at $24,200 — other standard features include front fog lights, roof rails, dual-zone climate controls, a cooling glove box and an auto-folding rear seat.
Optional features. Looking to pimp your ride? Kia offers a surprisingly high-end selection of possibilities. The all-wheel drive version of Sportage EX we tested was priced at $30,000, and for that you get every feature mentioned above plus 18-inch allow wheels, power folding outside mirrors, a push button start with smart key, an auto-dimming rear view mirror with HomeLink, heated front seats and an air-cooled front driver's seat.


2013 Kia Sportage: The Ride
| | | | |
| --- | --- | --- | --- |
| | Spec: | | 2013 Kia Sportage EX All Wheel Drive |
| | Estimated MPG | | 20 city / 27 hwy |
| | Horsepower | | 176 hp @ 6,000 rpm |
| | Ground Clearance | | 6.8-inches (17.2cm) |
| | Torque | | 168 lb-ft @ 4,000 rpm |
| | 0 to 60 mph3 | | 9.2 secs |
| | Quarter mile time3 | | 17.1 secs |
Test drive any SUV and you'll find that it either drives more like a car or more like a truck. The Kia Sportage is definitely in the former category. Relative to its exterior size, the vehicle feels compact and easily maneuverable. The turning radius is outstanding and we had no problem parallel parking, even into spaces that were a bit of a tight squeeze.
Part of what gives the Sportage a car-like ride is the stiff suspension. We could definitely feel the bumps while traversing the rural side roads of the Catskills. To us that's a plus, though other drivers may prefer feeling like they are driving a couch down the highway a softer ride.
Around town, the Kia Sportage EX has a car-like zip too. The acceleration is strong at lower speeds. The vehicle will shoot you from say, 20 to 40 mph plenty fast. But it feels sluggish accelerating from 40 to 60 mph3; at times our Sportage struggled to maintain its speed while climbing the steeper hills in the Catskills.
As for the all wheel drive, we didn't have much of a chance to test it out. Our Sportage did feel sure-footed on the well-groomed gravel roads of the Catskills. We could imagine it dealing equally well with snow driving.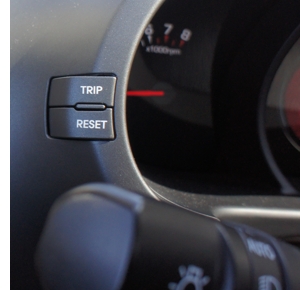 The Sportage has two driving modes: eco and normal. In eco mode, you'll get a few miles a gallon more in exchange for a slight, though noticeable, decrease in performance. We greatly wish there were a button on the gear shift to quickly switch between the modes without taking your eyes off the road. That would let you routinely stay in eco mode, switching out only when you need the extra acceleration. As it is, switching between modes requires leaning forward and using the TRIP and RESET buttons, located to the left tachometer, to navigate through a menu of options.
Kia rates the gas mileage for the all wheel drive version of the Sportage EX at 20 mpg (8.5 km/l) for city driving and 27 mpg (11.5 km/l) highway, though it is unclear whether this is with eco mode turned on or off. If you drive a gentle 65 mph on the interstate in eco mode you could certainly get more than 30 mpg. On our Catskills road trip we drove approximately 60% of the time on interstates, 30% rural roads and 10% in urban areas. For the whole trip we averaged 25.1 mpg with eco mode turned on about half that time.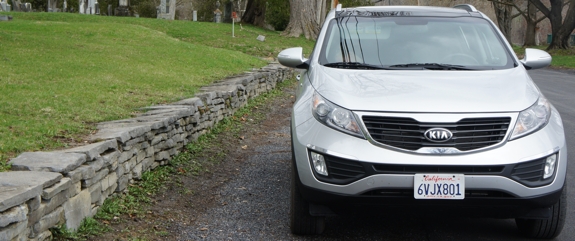 Our Verdict
The 2013 Kia Sportage is that rare vehicle that can make you feel like you've spent a lot on your vehicle without actually doing so. The value of the money is absolutely outstanding! For that reason alone, the Sportage is worth a look when buying your next vehicle, most especially if you are one who likes how smaller cars drive, are nervous about switching to a larger vehicle but are nevertheless in the market for a compact crossover SUV.
We did return from our Catskills road trip with two major quibbles with our 2013 Kia Sportage EX: the sluggish power at highway speeds and the limited rear cargo room. Happily, Kia offers solutions for both:
For a more peppy ride, consider the highest-end SX model of the Sportage. It has a turbo charged engine (as well as leather trim standard) and starts at only $26,900.
For more rear cargo room  — about 40% more  — consider the Kia Sorento.
And for more on our family Catskills road trip, check out these posts on our travel blog:
The Emerson Resort and the World's Largest Kaleidoscope
The White Water Bay Indoor Water Park . . . coming soon
Walking the World's Longest Pedestrian Bridge . . . coming soon
The Roxbury Motel: Contemporary Catskills Lodging . . . coming soon
Coolest. Hotel Room. Ever! . . . coming soon
published: 3 May 2013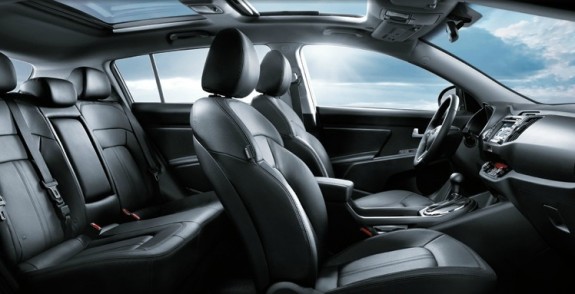 1 Kia no doubt meant to make up for this by having a "clock" button that makes the time appear in a large font across the screen for a few seconds. But when we're driving with kid and baby melting down in the back seat we'd prefer to be able to glance down quickly to see how many more minutes of torture we have rather than have to take a hand off the steering wheel and push a button to find out.
2 In many vehicles, if the driver's height is anything approximating tall he or she has to pull the driver's seat forward to have enough space to get a baby seat in or out.
3 Kia doesn't seem to publish official specs for a 0 to 60 mph acceleration or quarter-mile times. The unofficial times we found through an independent online source were 9.2 and 17.1 seconds, respectively, though to us the Sportage felt a little slower than that.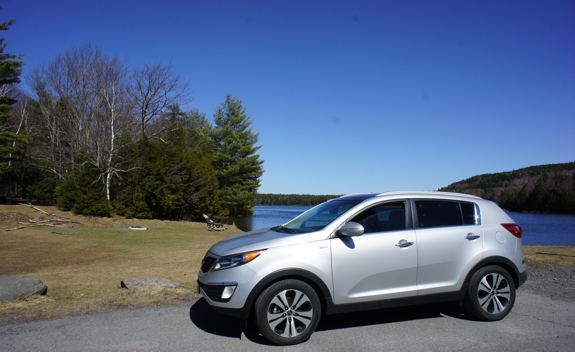 JOIN US ON TWITTER / FACEBOOK / PINTREST / GOOGLE+