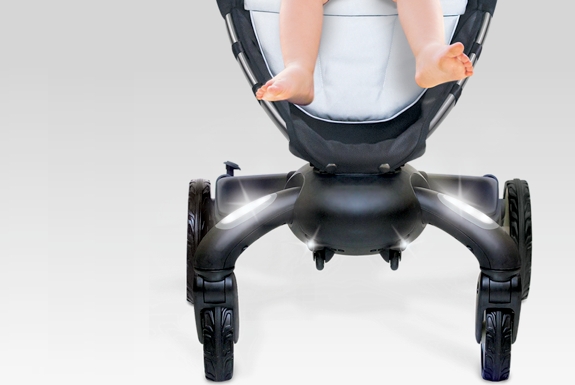 Over the last few decades, baby strollers have developed hipper designs and incorporated more rugged frames and lighter weight materials. But baby stroller technology (such as it is) has remained essentially the same as it was at the turn of the century — the 19th century.
Happily, the humble stroller now is starting to become a little less humble. (And just in time for Spot Cool Stuff's first baby, too!) A handful of new stroller start-ups are recognizing that today's mobile and tech-savvy parents want those qualities reflected in their strollers.
We'll be publishing a post later on new stroller concept designs, some of which might make it into development and some not. For the moment, though, we are focusing on high-tech strollers currently on the market. Spot Cool Stuff's top choice among those: the 4moms Origami.





7 Cool Features of the 4moms Origami Stroller
It's self-folding
The vast majority of strollers are somewhere between difficult and unpleasant to open and close. Even a smartly designed stroller that folds easily (like the low-tech but excellent UPPAbaby Vista) requires two hands. The Origami is the world's first power-folding stroller. Push a button and it folds down (or up) on it's own; it's easy to fold down the Origami even while holding a baby. The folding process takes about three or four seconds. Safety sensors in the stroller prevent it from closing with a child (or even large stuffed animal) inside.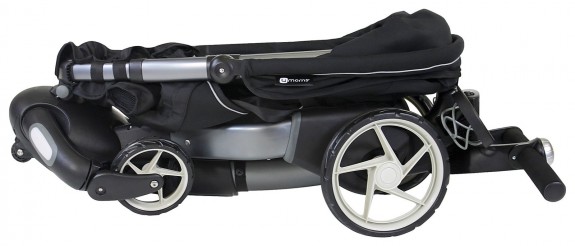 USB charging outlet
An optional, detachable cord provides a USB outlet for charging an iPod, smartphone, tablet, camera or other portable device.
The stroller lights
Daytime running lights help increase the stroller's visibility. At night, pathway lights automatically illuminate to guide the way. (See the photo, above.)
The LCD screen
So far as Spot Cool Stuff can determine, the 4moms Origami is the only stroller that comes with a built-in LCD display. The backlit screen shows data from the stroller's thermometer, speedometer, trip and lifetime odometers; it also displays the battery level and, as if it weren't obvious, the screen will tell you if there's a baby in the stroller. What baby's cries means are still up to you to figure out—perhaps the next version of the Origami will have translation capability.
The self-charging battery
All those electronics—the power-folding mechanism, the lights, the LCD screen—could run the risk of creating an extra headache for parents, if it weren't for our favorite feature of the 4moms Origami: the self-charging battery. As you walk, the rear wheels generate electricity that charges the battery! The stroller can be folded down manually and charged via a wall outlet. But under normal use, you'll never need to do either. About 15 minutes of regular walking charges the battery enough to power one fold/unfold cycle.
Color kits
The Origami ships in one of six colors: black, silver, pink, blue, green and red. If you later decide you want a different color (maybe because you are using the Origami with a different child) you can simply buy a new color kit without purchasing an entirely new stroller. The color insert is machine washable—not unusual for a stroller but not a given either.
Smart design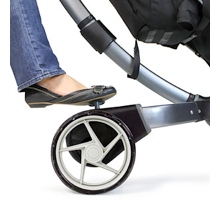 Even if it weren't for any of the above, the Origami would still be a exceptionally well-built, smartly designed stroller. Among the features we like: the four (!) cup holders, the ample (and removable) storage (especially with the handlebar bag accessory), the "no kick" walking zone and the four-wheel suspension. We give huge kudos also to the one-push foot brake, which solidly holds the stroller in place.


The 4moms Origami Stroller & Buying Advice
To Spot Cool Stuff's thinking, there are two main downsides to the 4moms Origami stroller:
• There's no rumble seat, which would allow you to use the stroller with two babies at once. To be fair, only a few strollers have a rumble set option; the UPPAbaby Vista is one of them.
• 4moms only makes a car seat adapter for the Graco SnugRide series. Though Graco makes excellent car seats, we're slightly partial to the Chicco KeyFit.
The other major downside, of course, is all this stroller coolness doesn't come cheap. The discount price for a silver-colored Origami stroller on Amazon.com is currently US$849 (with other colors costing around $20~40 more). That's a lot when you consider that a basic (if flimsy and non-techified) toddler stroller can be found for under $100. But the Origami's price tag is in line with other high-end strollers, some of which don't even allow for car seat adapters or can't adapt to both toddlers and newborns. Plus, despite its extra electronics, the Origami also weighs around what similar strollers do: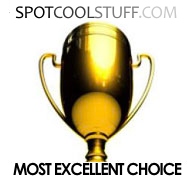 Add that all up and we unreservedly recommend the 4moms Origami stroller, enough to give it our rarely awarded Spot Cool Stuff Most Excellent designation.
The Origami, it should be noted, is not the only excellent stroller on the market and you may prefer another option in its price category. If you have a toddler, place a paramount importance on weight and want a stroller with a dash of high-tech to it, consider getting a BloomBaby Zen—it features a solar-powered lighting system. For stroller purists, the Vista is a superb value for a high-end stroller and UPPABaby provides excellent customer support.
Both of those strollers as as well built as the Origami. But they certainly aren't better built. And no other stroller on the market today is as high tech as the Origami. No other stroller offers smartphone charging and a self-powered battery. And no other stroller offers the Origami's one button power folding, which we find extremely cool. Your baby will probably think so too.
LEARN MORE & BUY | JOIN US ON TWITTER / FACEBOOK / PINTREST|
† You can separately purchase the Bloom Zen Yoga Newborn Nest (how many new age words can they fit into one product name?) for an extra $250 that converts the Zen stroller for infant use.
updated: 27 Mar 2013

Related posts:
The Best Websites for Finding Baby Names
The Best New Toys for 2012
Cool Family Travel Ideas (Adults Will Love Too)