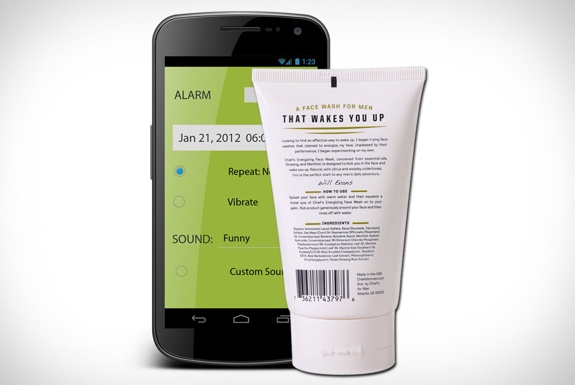 Spot Cool Stuff wakes up cranky. We are not morning people.† This is why we depend upon caffeine. And why we are fans of Chief's Energizing Face Wash for men. Dabbing it onto your skin, then splashing water onto your face, it's hard to not feel like you're in a York Peppermint Patty commercial. Indeed, there's a fair amount of peppermint in Chief's Face Wash. There's eucalyptus too. And ginseng and menthol and a hint of rosemary. Altogether, it wallops you with a refreshing minty morning pick-me-up.
So what's a review of a face wash doing on a technology blog?
Because, to our knowledge, Chief's Mens Energizing Face Wash is the first wash of any sort that interacts with a smartphone.
The whole idea is to help you get up and feel energized in the morning. So the Chiefs app has an alarm clock. It can be programmed to wake you with a variety of sounds. But the only way to turn it off is to use the camera on your smartphone or tablet to scan the bar code on the back of the Chief's Face Wash bottle. (Technically, throwing the phone really hard against a wall could turn the alarm off too, but we don't recommend trying). Assuming your face wash is by your sink, the alarm should at least motivate you to get to your energizing face wash, which should in turn invigorate you at least long enough to go downstairs and make a cup of coffee.
Sadly, the Chiefs alarm app is currently only available for Android. iPhone users are stuck with the snooze button.
published: 5 April 2011

LEARN MORE & BUY | JOIN US ON TWITTER / FACEBOOK / PINTREST |
† This is a massive understatement.




LEARN MORE & BUY | DOWNLOAD APP | JOIN US ON TWITTER / FACEBOOK / PINTREST
Related posts:
The Best Tablet Computers for Travel
Review of the Cobra iRadar: The iPhone Linked Radar Detector
5 Cool, Creative Appcessory Toys