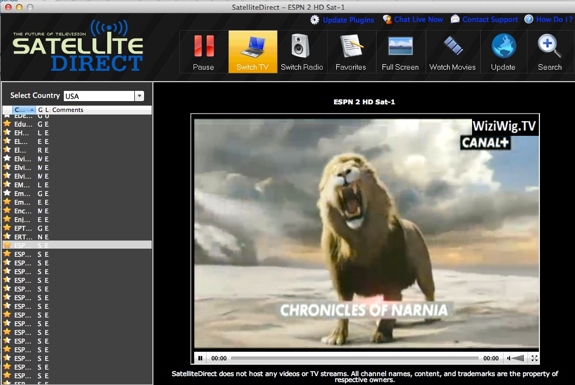 It's becoming increasingly easy to ditch your monthly cable or satellite bill and watch television over the internet instead. Several networks stream their television shows directly on their own websites. In addition, you can watch television through services like Cracked and Hulu, and stream movies on a computer, smart TV or portable media player via Netflix and Amazon Instant Video.
Of course, none of those offer an array of live television channels over the internet. But there is a software product that claims to: SatelliteDirect. But does the service really deliver 3,500 channels of satellite television directly to your computer? Spot Cool Stuff takes a look:





The Claims
"You could cancel your cable now," claims SatelliteDirect, because with their software you can watch all the TV you want on over the internet.
The software is supposed to let you watch "over 3,500 TV channels" from all over the world—all without ever paying a subscription or additional fees beyond the software's initial $49.95 cost. And if you ever need help with the software there's a "technical team . . . always standing by to help you," either by email or via a live online chat agent.

The Reality Behind the Claims
Over 3,500 TV Channels available on your computer
There are indeed tons of stations listed in the SatelliteDirect lineup, so many we couldn't bring ourselves to count them all. There are channels listed from all over the world, from Afghanistan to Vietnam. Among the United States channels listed you'll find pretty much every one you can think of—and many that you can't. The Disco Channel? SatelliteDirect's listing includes 3 versions of Comedy Central, 5 feeds of CNN, 6 of Cinemax, 8 of Showtime, 9 of SyFy, 10 of the Discovery Channel, 15 from HBO and in incredible 44 (!) feeds from ESPN.
The catch—and it's a big one—is that there's a huge difference between a channel that's listed and one that's watchable. We'd estimate that more than half of the channels listed on SatelliteDirect simply don't work. Click on them and you'll either get a blank screen or an error message.
Then there are the ads. Sometimes selecting a station will cause a 10 to 55 second ad to pop up over the viewing screen. This makes channel surfing frustrating to say the least (especially when it isn't clear where to click to close the ad). Worse, some of the pop ups will automatically play a headache inducing video over the channel video.
That said, we did find some channels that came in cleanly: one feed from ESPN, one of BBC 2, a Bollywood movie station from India and an English-language version of Japan's NHK, among several others. When it works, SatelliteDirect is superb. But those moments are not nearly as common as we'd like or feel they should be.
No additional fees beyond the $49.95 software purchase
The worst part about the cable or satellite TV bill is that it comes every single month. SatelliteDirect promises to charge you once for the software and then never again.
Happily, this is a promise that SatelliteDirect keeps.
The SatelliteDirect TV interface does have a "Watch Movies" tab that tries to sell you a subscription to the Full Movies software for unlimited movie streaming. But it's a gentle upsell that doesn't interfere with the television watching experience (such as it is).
SatelliteDirect updates are free and there are no other mandatory fees for running the SatelliteDirect software.
Responsive customer service
In our experience, and in the experience of several other people we talked to, the SatelliteDirect customer service is somewhere between sub-par and terrible.
SatelliteDirect theoretically runs a live chat service customers can use to get help. But that isn't working at the time of writing and hasn't been for a least the last month prior.
Since there's no service phone number, that leaves email as the only means for customers to get help with the software. SatelliteDirect promises that they'll get back to you in 24 hours—at least they do before you write. After you send your request, their stated response time somehow changes to 48 hours. When Spot Cool Stuff wrote for help after our SatelliteDirect software wouldn't properly install, we didn't hear back for nearly 72 hours. And when we did get a reply it was generic; it didn't seem like the customer service rep really read the description of our problem.
When we contacted SatelliteDirect asking for comment, they replied by saying that their chat feature "is currently not working because some issues with the servers and the technical team are working on that." Um, okay, but they've been working on it for a long time now. And the chat page doesn't say the system is down, it says that all the representatives are "currently busy attending to other customers."
The good news is that SatelliteDirect will most likely get back to you and solve your problem or refund your money—eventually.

Our Verdict
So is SatelliteDirect a scam or a deal? In our opinion, it's something in between. There are no hidden costs associated with the software. But the service isn't all that SatelliteDirect makes it out to be.
If you currently enjoy having cable or satellite TV and are thinking of canceling that and switching to SatelliteDirect to save yourself some money, our strong advice is: don't! You'll be monumentally disappointed.
There are, however, two groups for whom we would mildly recommend SatelliteDirect:
1) Expats. If you live in one country and long to see television available in another, SatelliteDirect's international offerings might be appealing to you.
2) People who love TV but can't get cable or satellite for whatever reason. SatelliteDirect, while substantially flawed, is still steps above not having live television at all.
LEARN MORE & BUY | JOIN US ON TWITTER / FACEBOOK |
published: 13 April 2011

Related posts:
Television That Makes You Smarter
LOST Hawaii Filming Locations
Cool YouTube Videos