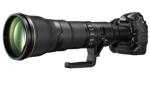 spot cool stuff TECH
Spot Cool Stuff once had a chance to go on a photo safari with a borrowed Nikon 600mm super telephoto lens. It was beauty in the form of glass and die-cast magnesium, that lens was. Even sub-par shots came out vibrant, with an edge-to-edge sharpness that made it look like you were standing right next to that bear, not in a Jeep 100 meters away.
(Sadly, purchasing the Nikon 600mm lens is out our, and most consumer's, budget. Happily, you can rent it and other ultra high-end photography gear at Borrow Lenses.)
Now comes a lens that's sure to please avid Nikon photographers (and avid voyeurs) who are not content with a mere 600mm of super telephoto-ness: the Nikon 800mm.
---