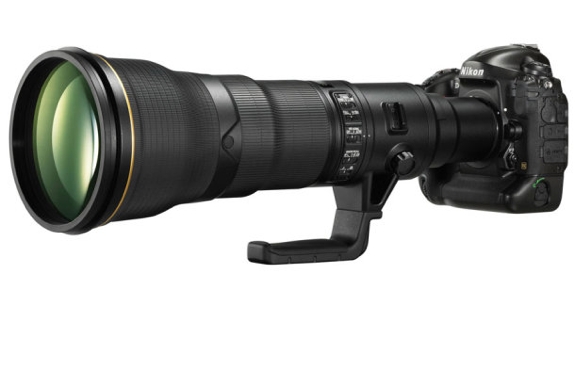 Spot Cool Stuff once had a chance to go on a photo safari with a borrowed Nikon 600mm super telephoto lens. It was beauty in the form of glass and die-cast magnesium, that lens was. Even sub-par shots came out vibrant, with an edge-to-edge sharpness that made it look like you were standing right next to that bear, not in a Jeep 100 meters away.
(Sadly, purchasing the Nikon 600mm lens is out our, and most consumer's, budget. Happily, you can rent it and other ultra high-end photography gear at Borrow Lenses.)
Now comes a lens that's sure to please avid Nikon photographers (and avid voyeurs) who are not content with a mere 600mm of super telephoto-ness: the Nikon 800mm.




Nikon's latest super telephoto features a lens design of 15 elements in 12 groups, including three ED glass lenses, one Nano Crystal Coat element and one meniscus protective glass.
The f/5.6 lens has all the features that its 600mm predecessor does, including a silent wave motor for high speed auto focusing, vibration reduction and weather proofing.
Both lenses are also the same weight and have the same list price. Which is to say, both are heavy and expensive. The new Nikon 800mm super telephoto will set you back around US$10,000. It weighs about 11 pounds (5kg). We used the 600mm by resting the lens on the shoulder of a person in front of us (this looks and feels a little like firing a bazooka). More commonly, you'd set the lens on a tripod. Even then, you'd typically use the fastest possible shutter speed to minimize the motion effect.
When the Nikon 800mm lens is available to consumers, it will directly complete against a similarly-speced but nearly twice as expensive 800mm lens from Canon.
A *Much* Cheap Super Telephoto Lens Alternative
The Opteka 650-1300mm HD Telephoto Zoom Lens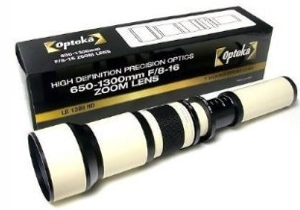 Don't have ten grand to blow on a super telephoto lens for your Nikon SLR? Opteka makes an alternative that's an absolutely amazing value. At its current Amazon.com sale price, for a mere $245 (!) you can purchase an Opteka 650-1300mm HD Telephoto! (Opteka makes a version of the lens for Canon cameras too.)
The f/8-16 Opteka telephoto is a lot slower than the Nikon 800mm. Its glass doesn't offer quite the clarity. Still, the quality of the Opteka is what you would expect from a $1,000 telephone lens — but for a price tag that's a lot less. And what's not to like about that?
published: 2 Dec 2012

SHOP NIKON LENSES | JOIN US ON TWITTER / FACEBOOK / PINTREST |

Sample Nikon 600mm Photos
Related Spot Cool Stuff Camera Posts
The Nikon D80 vs D90 vs D300 SLR Camera Comparison
Our Review of the Best Nikon Lenses
Borrow Lenses: The Website for Renting Photography Gear Online
Elsewhere on the web: