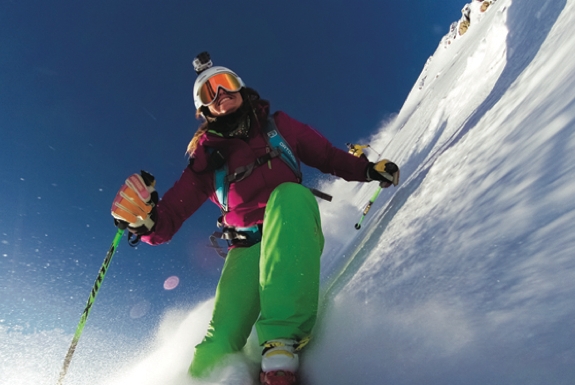 The typical vacation video is painful to watch. When we visit friends and family who have recently returned from a trip and they ask if we want to watch their vacation videos our minds usually turn quickly towards concocting an excuse — A just-remembered appointment? A gas stove at home accidentally left on? A sudden bout of whooping cough?. That is, unless their video was taken with a GoPro video camera.
There are two key differences between a GoPro and, say, the video recording app on your iPhone:
First, GoPro-created videos are ridiculously high quality; you have to watch one on a large screen HD television to appreciate it.
Second, GoPro video cameras are small and durable. Though they can be handheld they are really designed to be mounted on a head strap, helmet, handlebar and the like. It is this perspective that can make a GoPro video special.
With every iteration, GoPro video cameras have gotten a little better. Which is why Spot Cool Stuff is excited about the newest one: The GoPro HERO3 HD.




The HERO3 comes in three differently-priced models: white, silver and (starting 14 December 2012) black. Each offers built-in wifi (on previous GoPro cameras wifi was an optional, and expensive, extra). Each records in 1080p (or better!). Each is compatible with the GoPro app that turns your smartphone into a live video remote. And each is 25% lighter and 30% smaller than the previous-generation HERO2.
Though the white and silver models of the HERO3 have some technological game, it is the specs on the GoPro HERO3 Black Edition that are especially impressive. It can record 1080p video at 60 frames per second or an amazing 1440p at 48 fps. It takes 12MP still images with a burst mode up to 30 photos per second. And its powerful sensor and f/2.8 6-element aspherical glass lens make for excellent low-light image quality.
The combination of all that has lead GoPro to, understandably, market the HERO3 towards extreme sport enthusiasts. You can see that in their promotional videos that feature snow boarding . . .
. . . skiing . . .
. . . and mountain biking.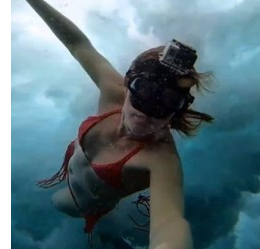 But if we may make this pitch: You needn't be an aspiring X-Games participant to enjoy a GoPro video camera. Take a GoPro to the beach and make a swimming, snorkeling or surfing video. (The GoPro HERO3, comes in a waterproof housing, eliminating the need to buy an extra, bulky case). Or take a GoPro to the amusement park and film as you ride the coaster. Spot Cool Stuff once got a great video by attaching a GoPro camera on the front of our motorbike for a ride around Hanoi.
So, consider taking a GoPro on your next trip, wherever that may be. The friends and family who you cajole into watching your travel videos will thank you.
published: 27 Nov 2012

This post is sponsored by GoPro
LEARN MORE & BUY | JOIN US ON TWITTER / FACEBOOK / PINTREST / GOOGLE+
Related posts on Spot Cool Stuff:
Zeal Optics iON HD Goggles
Canon Digital Camera Comparison: 5D Mark III vs Mark II
5 Amazing Mountain Biking Locations