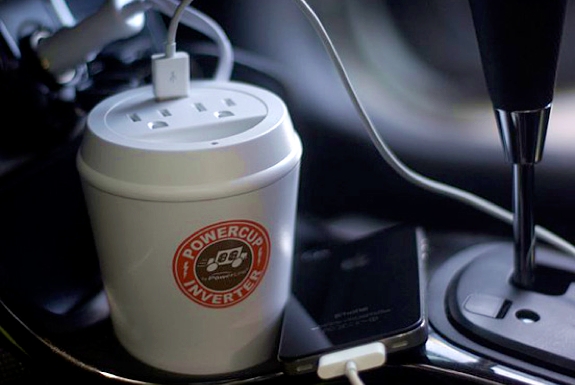 The cup holder might be the greatest innovation in automobile design since the steering wheel. Not only can the cup holder power you through a late night caffeinated drive, it can also power a smartphone, a laptop and a coffee maker — all at the same time! At least it can when your cup holder is holding a PowerLine PowerCup Inverter.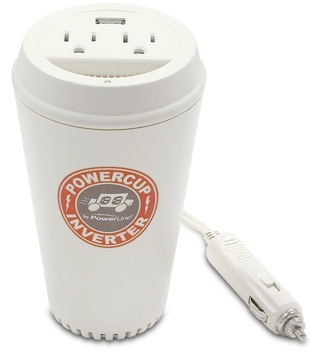 The PowerCup is about the size and shape of a grande Starbucks drink. But there's no room for coffee on the inside. Instead there's circuitry that takes the DC electricity available through your car's cigarette lighter and converts it into AC power of the sort your home electronics require.
On the top of the PowerCup are two standard wall outlets† plus a USB outlet.
The USB outlet can provide 500mA of power — exactly what your USB wall plug does. The outlets supposedly provide 200 watts of continuous power, and up to 400 watts peak power, though in reality the exact amount depends on your car.
Add it up and the PowerCup Inverter is a brilliant idea allowing you to, for example, simultaneously charge your iPad, run a margarita blender at a tailgate and power a satellite to communicate your plans for world domination.
We mostly love the design of the PowerCup too. Mostly. The big downside is the that fan and heat vent are located at the bottom of the cup, exactly where the ventilation is at its worst. As a result, the PowerCup can get very hot. Rally makes very good cup holder inverters with the vent smartly towards the top, though Rally's designs are butt ugly.
Of course, an inverter would not be necessary if cars simply came will wall outlets. Spot Cool Stuff once asked a senior executive at a major automobile company why they didn't. He told us that consumer demand for that wouldn't justify the cost. We're not so sure that right. But until car manufacturers decide to build outlets into their vehicles, the PowerLine PowerCup Inverter will serve you well.
published: 11 Nov 2012

† Standard in countries with type A and B outlets at least, including the United States, Canada, Japan and most Caribbean nations.

LEARN MORE & BUY | JOIN US ON TWITTER / FACEBOOK / PINTREST / GOOGLE+
Elsewhere on the web: