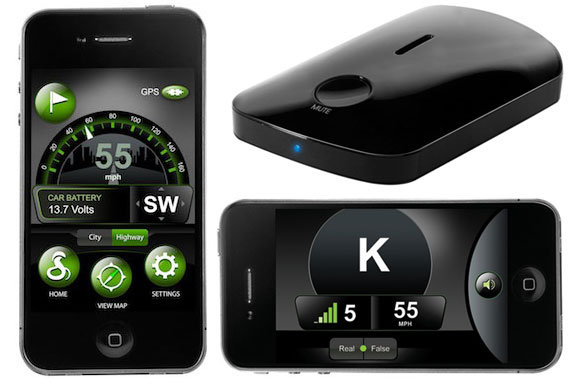 Add yet another use for a smartphone: radar detector. That thanks to Cobra and its Cobra iRadar, the first radar detector with phone connectivity.
The way it works is: You mount the compact iRadar unit on the dashboard of your car and then pair it via Bluetooth to an Apple iPhone or iPod Touch running the iRadar app. The iPhone then works as the radar detector's display.
So how well does this marriage between smartphone and radar detector work? Our overview of the pros and cons:





The Pros

Radar detectors that sit up on a visor or suction-cup onto a windshield draw a lot of attention, both from police and would-be thieves. The Cobra iRadar unit is small, black and looks unobtrusive.

In general, radar detectors have horrifically bad displays. An iPhone or iPod Touch provides a large and vibrant screen. It displays information on any police radar being detected in addition to current driving speed, compass direction and even the voltage in your battery.

The iRadar app is intuitive to use. The use of large fonts and controls make it easy see and use while driving. The app will also track and map your radar alert history.

The app incorporates the AURA database of photo enforcement and road construction sites. Updating the database is as simple as updating your iPhone.

For such a cool product the cost is very reasonable. The app is free. The iRadar unit is US$160 retail or $130 through Amazon.

The Cons

The iRadar currently works only with an Apple iPhone or iPod Touch. An Android iRadar app is in development and is expected in early 2011. A BlackBerry app will likely follow that. Still, buying an iRadar will at least somewhat limit your future smartphone choices.

The iRadar system is dependent on having your smartphone visible and operational. If you forgot your phone or if it is out of power then you're out of luck.

The iRadar's speed trap detection capabilities are well above average compared to other radar detectors in its price range but significantly interior to the quality available for an extra $100 or so.




Our Verdict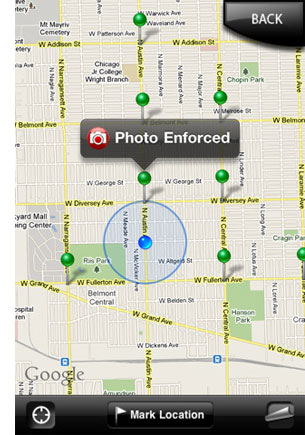 Cobra has been making radar detectors for a long time but the iRadar marks the first time that the company—or any company—has paired a radar detection unit with a smartphone. Given that, we expected the iRadar to be an excellent radar detector but with a glitchy phone interface. What we found, though, was close to the opposite of that. The iRadar app is well designed; the phone interface with the iRadar unit is near flawless. But the iRadar's ability to actually detect radar is a bit sub-optimal.
Now, it should be said that absolutely no radar detector in the iRadar's price range is one we'd consider fantastic. So, if you are planing to spend under $200 on a radar detector then the Cobra iRadar is an excellent choice. Other radar detectors at that price aren't going to detect radar any better and don't have the cool factor or enforcement camera alert system that the iRadar does.
However, if you are in the market for a more high end radar detector then we'd suggest springing for a superb Escort Passport 9500ix, or at least for a very good Passport 8500. While those two models do cost more than a Cobra iRadar the extra you'd pay is still less than a speeding ticket.
published: 17 Nov 2010

LEARN MORE & BUY | FOLLOW US ON TWITTER |
Related posts:
How To Avoid Getting a Speeding Ticket ← external link
8 Green, Environmentally-Friendly Motorcycles
Mercedes-Benz SLS AMG E-cell: The World's Fastest All-Electric Car
The iPhone Radiation Shield
The World's Largest Car Dealership ← it has a race track on the roof