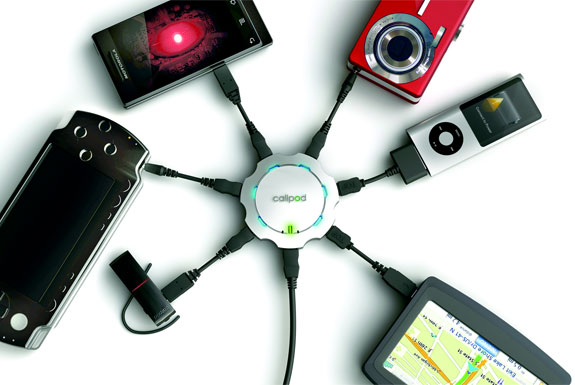 Apple, Motorola, Samsung, Sony and other big tech companies have been working hard to create all-in-one gadgets with multiple functionality. But a funny thing happened as they designed gadgets that do more—consumers bought more gadgets. Between smart phones, portable gaming devices, tablet computers, digital cameras, Bluetooth headsets, GPS navigation systems and the like, lots of people now travel with more electronics than ever before.
And that means they travel with more gadgets that need charging than ever before.
To the rescue comes the Chargepod, a mobile charging and plug adapter system that can charge up to six devices at once.




The benefit of traveling with a Chargepod is obvious: Instead of packing six different electrical cords (potentially attached to six different plugs) you can travel with one heptagonally-shaped Chargepod and whichever adapters you need. One end of the adapter is plugged into the Chargepod, the other into your gadget. The adapter cords are relatively short, and the central Chargepod unit is about the size of a small set of keys (see pic, below), so the whole system takes up very little space.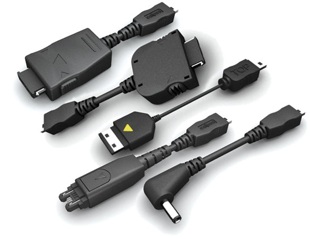 One feature that makes the Chargepod so useful is the large variety of adapters available. Twenty adapters (and counting) are available that together fit into over 3,000 different devices. However, most/all of the adapters you'll need come in the 6-adapter bundle back; it includes a USB, mini-USB and micro-USB adapter as well as ones for a Blackberry device, Apple iPod/Pad/Phone and standard Bluetooth headset.
We also like the that Chargepod comes with a car adapter as well as standard wall outlet plug.
So that's the benefit of bringing a Chargepod when you travel.
But what surprised us most about the Chargepod was how useful it was to have at home. Before the Chargepod, Spot Cool Stuff charged our gadgets by plugging cords into a typical six-outlet power strip. This only allowed us to charge 4 or 5 devices at a time. Why? Because the outlets were so close together that the plug units took up the space of two outlets. With the Chargepod, one outlet is all you need.
The Chargepod with the six-adapter bundle pack costs US$100 retail. Happily—and completely inexplicably—it is on sale now on at Amazon at an 87% discount! Only $13.
That's a small price to pay for making the charging your mobile electronics more organized and more portable. And it will tide you over until that magical all-in-one device comes out for real.
published: 4 Oct 2011

LEARN MORE & BUY | JOIN US ON TWITTER / FACEBOOK |
Related posts:
First Look at the Amazon Kindle Touch and Kindle Fire
Griffin TuneFlex Car iPod Player
10 Great Gadget Gifts For Under $100