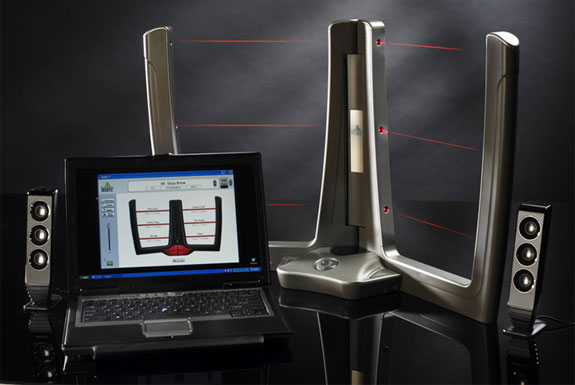 What instrument does Yo-Yo Ma joke that he'll give up his cello for, and lets you crank out a Van Halen-like guitar solo and can be competently played by even the most musically untalented without a single lesson?
It's the Beamz Interactive Music System.
And, oh yeah, you play it with lasers.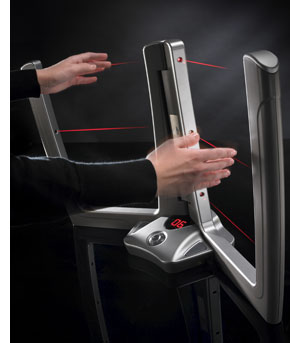 The Beamz has been dubbed by some the "laser harp" though the nickname is a misnomer. On a harp each string produces a note. The six laser "strings" on the Beamz are programed to produce a particular instrument or sound effect when the beam is broken. Which musical instrument or sound effect a beam controls depends on what setting the Beamz is on. Yo-Yo Ma wannabes would use the classical mode, the Van Halen-inspired will find their muse in the "death by metal" setting. In either case, it is impossible to play the Beamz off-key or make a musical mistake.
(Tip: playing the lasers in the "death by metal" setting is especially fun and impressive when paired with a fog machine).
Altogether the Beamz comes pre-programmed with 20 genre settings, 30 original songs and over 100 musical instruments. Hook the Beamz up to your computer (Windows only, sadly, not Mac) via a USB connection and you can download addition songs or personalize the instrument selection via the Beamz Player ($19.95).
The Beamz Interactive Music System will set you back $200. Spend an additional $75 on the Professional model and $100 on the Beamz Studio software and you can compose your own songs and incorporate your own MP3 files.
Despite Yo-Yo Ma's endorsement we have a hard time believing that serious musicians would find long term satisfaction playing the Beamz. (Then again, we ourselves aren't serious musicians).
The Beamz is excellent for those who want a sense of being a serious musician without all the hassle of learning how to, you know, actually play an instrument. It is also perfect for creative types who want to some control music as part of some artistic endeavor (to accompany a video, for example).
But we are especially keen on the Beamz as a way to get children to interact with music. For very young children the Beamz has a special setting with farm sound effects, for older children the Beamz is a wonderful introduction to the joys of playing an instrument.
Check out the Beamz Interactive Music System in the two videos below. The first features Quincy Jones with Yo-Yo Ma and Herbie Hancock, the second is of a nine year old girl (who's apparently a big fan of Texas, so don't mess with her) putting on a Caribbean-styled Beamz performance.
published: Jan 2010

LEARN MORE & BUY | FOLLOW US ON TWITTER |


LEARN MORE & BUY | FOLLOW US ON TWITTER
Related posts:
Bose QuietComfort 15: The Best Noise Canceling Headphones
8 Free Websites For Expanding Your Music Horizons
A Few Great Albums You've (Probably) Never Heard
Sonos: Play Music, Wirelessly, Throughout Your House