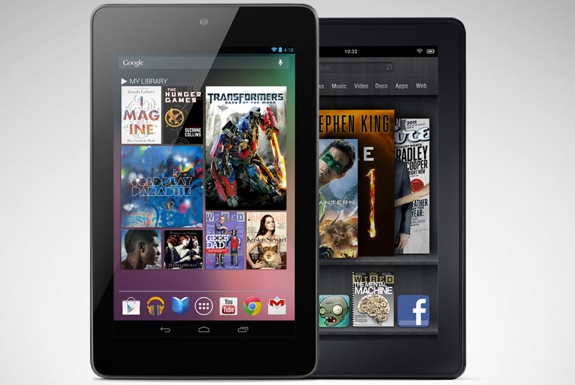 It seems that nearly every large electronics company is getting into the tablet computer business. So no surprise that Google is too. The company recently announced its Google Nexus 7, a tablet that takes direct at Amazon's Kindle Fire.
Like the Fire, the Nexus 7 is designed primarily to read eBooks and watch videos. Like the Fire, the Nexus 7 has a 7-inch screen. And both tablets (when configured with 8GB internal memory) sell for exactly the same price: $199.
So which tablet is better? Our review comparison:

Google Nexus 7 vs Amazon Kindle Fire Hardware
As a piece of hardware, it isn't much of a contest: the new Google Nexus 7 is superior to the Kindle Fire.

It isn't substantially better in any one area. But it is a bit better in most of them. The Nexus 7 is a little bit lighter than the Fire, it's a bit more powerful, a bit more feature rich, has a bit better display quality and brightness and feels a bit more comfortable to hold, not to mention being a bit better looking. In the end calculation, all those bits adds up to a lot.
In particular, we're thrilled that the Nexus 7 has physical volume buttons on the side of the device; with the Fire you have to use the touchscreen to adjust the volume and it isn't always intuitive how to get the controls to appear.
In addition, the Fire doesn't have GPS, which reduces or eliminates the value of apps that make use of location services (eg. traffic mapping). Unlike the Fire, the Nexus also has a camera. It is very much not a high quality camera; you wouldn't want to take vacation photos with it (and, indeed, the Nexus 7 doesn't even come with a photo management app). But the camera does work for basic functions, such a video chatting or scanning QR codes.
The only significant way in which the Fire's hardware beats the Nexus 7′s is the quality of the built-in speakers—we'd describe the Nexus 7′s as "pretty bad" while the Fire's rank a notch higher at "kind of bad."
LEARN MORE & BUY | JOIN US ON TWITTER / FACEBOOK / PINTEREST |
Tech spec comparison
LEARN MORE & BUY | JOIN US ON TWITTER / FACEBOOK / PINTEREST |
Subjective comparisons
| | | | | | |
| --- | --- | --- | --- | --- | --- |
| | Tablet Feature: | | Google Nexus 7 | | Amazon Kindle Fire |
| | Device looks | | ✔ | | |
| | Display quality | | ✔✔ | | |
| | Display brightness | | ✔ | | |
| | Speaker quality and volume | | | | ✔ |
| | Build quality | | ✔ | | |
| | Processor speed | | ✔✔ | | |
| | Web surfing speed (see below) | | | | ✔✔ |
| | Comfort to hold | | ✔ | | |
✔ = slightly better, ✔✔ = somewhat better, ✔✔✔ = much better





Google Play vs Amazon Streaming
As mentioned in the intro, both the Google Nexus 7 and the Kindle Fire are, at their hearts, infotainment devices. You aren't going to want to do much content creation or serious game playing on either. Both are designed to be used primarily to read eBooks, watch videos, listen to music and surf the web.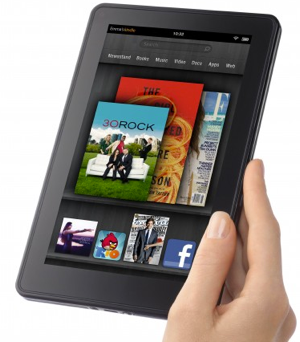 Both tablets are also designed to integrate with a particular content service: the Nexus 7 with Google Play and the Kindle Fire with Amazon's streaming videos and music and eBook store. And on this front, Amazon has the advantage.
That is particularly true if you are a member of Amazon Prime—and we think everyone should be. Prime members have access to a substantial, if not vast, selection of free videos. With Amazon Prime, you can watch every episode of LOST for free. Ditto episodes of Stargate SG1, The Office, Glee and HBO's The Tutors, among many others. Ditto a whole host of movies including Mission: Impossible III, Forrest Gump, The Shawshank Redemption and Into The Wild. Prime members also get some eBooks and eMagazines for free, and discounts on others.
Even without a Prime membership, Amazon has advantages over Google Play. They have a larger selection of content. And the content that is available on both is sometimes cheaper on Amazon. Plus, Amazon uses "Whispersync" syncing—purchase an eBook on the Amazon website and it will almost instantly appear on your Kindle Fire, plus any and all other Kindle devices or reading apps you may have. Your bookmarks, highlights, notes and the last page your read will seamlessly synch too.
The Kindle Fire also provides faster web surfing (despite having the less powerful processor). That's because it uses Silk, a web browser that pre-stores pages on the cloud and anticipates the web content you might be seeking. Though we are fans of the Chrome browser native to the Nexus 7, it isn't a game changing piece of software in the way Silk is.
LEARN MORE & BUY | JOIN US ON TWITTER / FACEBOOK / PINTEREST |

Our Verdict
Both the Nexus 7 and Kindle Fire are cool devices—and offer a truly remarkable value at only $199. At that price, one can afford the luxury of owning a larger, full-featured tablet like the Apple iPad or the excellent Samsung Galaxy Tab in addition to one of the 7-inch budget tablets reviewed above.
If you are looking to be one of those multi-tableted people—that is, if you are in the market for an eBook reader and portable video play to compliment a tablet you already have—then we'd recommend the Kindle Fire. That's because Amazon's eBook store and streaming services are that much ahead of Google Play. Spring for an Amazon Prime membership in addition and you might never pay to watch movies at home again. (Plus you'll get free two-day shipping on everything fulfilled by Amazon).
However, if you are looking to own one and only one tablet and don't want to spend more than $200, you'll be happier with the Google Nexus 7. The Nexus 7 does much (though not all) of what "real" tablets can do. And it looks good while doing it.
published: 5 July 2012

Related posts:
The Best Tablet Computers For Travel
Google Opens Its First Store in London
A Google Street View of the Amazon
An Overview of the Amazon Kindle Lineup

Read more tablet computer reviews