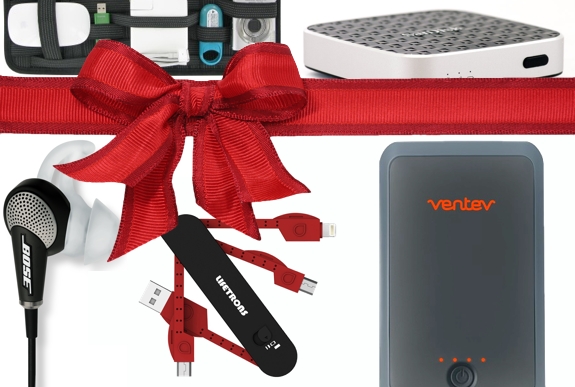 Most readers of this blog have people on their gift list who love traveling with gadgets. Okay, most readers of this blog are people who love traveling with gadgets.
Yet hardly anyone has all five (or even one) of the cool gift suggestions reviewed below, gifts designed to help tech-loving travelers watch, hear, power and organize their gadgetry better. Our selections each range from $9 to $299 and come with a WOW factor!

SanDisk Media Drive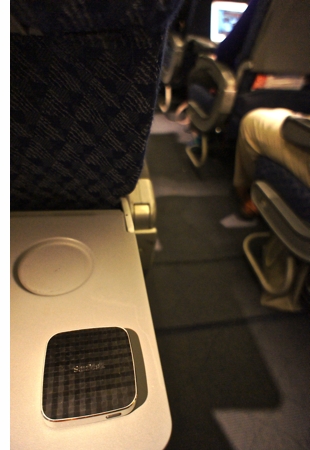 Spot Cool Stuff recently flew from a small New England airport to a small island in Australia. The trip took 52 hours door-to-door, including a 6 hour flight delay (on top of the scheduled 5 hour layover). How did we stay sane? By loading large quantities of HD movies onto our SanDisk Media Drive.
The SanDisk Media Drive is essentially an external hard disk for a smartphone or tablet. It connects via wifi, which means you can't be online and connected to the Media Drive at the same time. But it also means that connection is fast — faster than BlueTooth and without the occasionally messy pairing. The wifi network is created by the Media Drive itself, so you don't need an internet connection to make it work.
The SanDisk Media Drive connects to a computer via microUSB cord and comes in 32GB ($80) and 64GB ($100) sizes. The battery on each runs 8 hours (!) between charges. Five devices can connect to the Media Drive simultaneously, so an entire family could steam a different HD video at the same time. The physical device is sleek looking, tiny and weighs 2.7 ounces (77g).
Even tinier and lighter — it weighs a mere ounce — is the SanDisk Flash Drive. It has a 4-hour battery life and can only handle 3 simultaneous connections, but it also plugs directly into a USB port and so doesn't require traveling with an extra cord. Compared to the Media Drive it is also less expensive: $60 for the 32GB model, $47 for 16GB.
Both the Sandisk Media Drive and the Flash Drive can stream audio and store files. Traveling photographers can also use them to store, or back up, photographs. The drives have a special appeal to iPad owners — their tablets don't have expansion slots!




Ventev Powercell 5000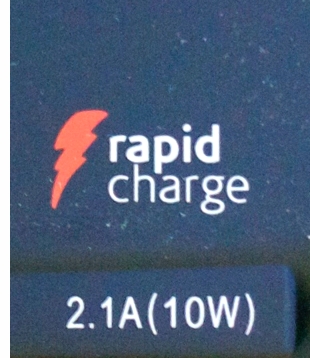 Keeping electronics charged can be challenge for tech-loving travelers. Fortunately, the Ventev Powercell 5000 is up to the task. It features a 5000mAh internal battery — enough to fully charge an iPad once or charge the typical smartphone more than three times. There are two ports, allowing two devices to charge simultaneously. And one of those ports is a rapid charging 2.1A; it charges a tablet as quickly as plugging it into a wall outlet does. Of the other similar products we've tried, the Ventev Powercell 5000 is by far the best built, which makes makes it surprising that, at the current Amazon discount price, it is also one of the least expensive: $39.

Lifetrons Multi-Tool Adaptor
At first glance it looks like a pocket knife. Except, instead of a blade, toothpick and non-functioning pair of scissors, what folds out of a Lifetrons Multi-Tool Adaptor ($85†) is a USB, mini-USB, micro-USB and iPhone plug! Use it to charge and synch your portable electronics exactly as you would cables.
But wait, there's more! The Lifetron Multi-Tool also works as an iPhone or iPod stand in both portrait and landscape mode. Plus there's a little compartment for holding spare SIM cards. Very cool.
† There's a version of the Lifetrons Multi-Tool Adaptor that comes with a Lightning adapter (eg. for the iPhone 5 and later) costs $120. Coming soon: a version of Multi-Tool for the Samsung Galaxy.

Bose QuietComfort 20i
The regular Bose QuietComfort earphones are outstanding — and cumbersome to travel with. The headphones, the case and all other accoutrements that come with it seem to weigh a ton and occupy half a carry-on.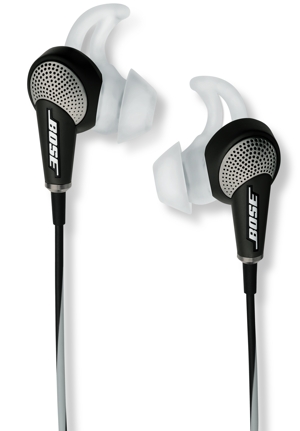 Which is why light packing audiophiles everywhere were thrilled when Bose introduced the QuietComfort 20i ($300). These active noise cancelling earbuds will shut out sound from airplane engines, road traffic and loud neighbors while playing your movies and music with the same audio clarity as the over-ear model. Plus, the built-in mic can work as a remote for your smartphone!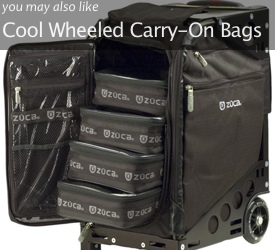 LEARN MORE & BUY | JOIN US ON TWITTER / FACEBOOK / PINTREST / GOOGLE+

Cocoon Grid-it Organizer
So how is a traveler to carry their smartphone, tablet, camera, battery chargers and flash drives — and, after receiving the gift suggestions on this page, their Media Drive, spare battery pack, headphones and Multi-Tool Adapter — in any sort of organized fashion?
The answer: A Cocoon Grid-it.
The Grid-It Organizer is cleverly designed to include no pockets. There's no form-fitted place that will work for one particular object but not for most others. Instead, the Grid-It features a series of criss-crossing elastic bands. Whatever you want to keep organized is simply slid under a band where there's space. The Organizer comes in a variety of colors and sizes, ranging from around $9 to about $17.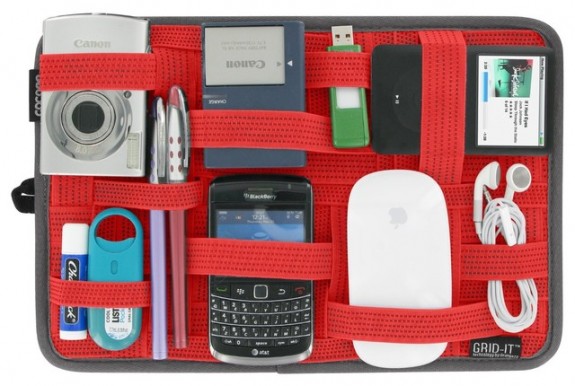 published: 22 Nov 2013

JOIN US ON TWITTER / FACEBOOK / PINTREST / GOOGLE+

More from Spot Cool Stuff:
Great Gifts For Architecture Lovers
Creative Appcessory Toys
Cool Gifts For Photographers (For Under $50)