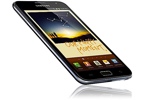 spot cool stuff TECH
Is it a tablet? Or is it a phone?
That's the tagline on billboards advertising the new Samsung Galaxy Note. When the company selling a product expresses uncertainly about what exactly their product is, you know you are dealing with something different.
Indeed, the Samsung Note really is something different—a new hybrid product that's both an oversized phone and an undersized tablet. The phonelet weighs 6.3 ounces (178 grams) and has a 5.3-inch display—more than the largest smartphone and less than the smallest tablet. The Android operating system, powered by 1.4GHz dual-core processor, is capable of doing anything Samsung Galaxy tablets are (and then some). And it makes phone calls with all the functionality of a high-end Samsung smartphone.
So does the Samsung Galaxy Note deliver the best features of a tablet and a smartphone? Or is it the worst of both worlds? Spot Cool Stuff takes a look:
---