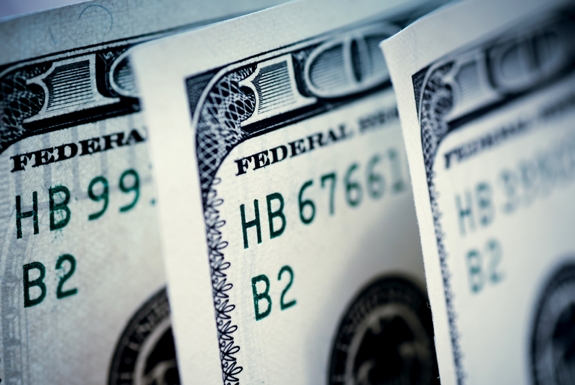 Three bills. That's all you need to get a quality laptop. It won't be a laptop with a huge screen or an ultra-fast processor. It won't run complex video-editing programs or graphics-intensive games. But it can be a laptop that's lightweight, well-built and more than capable of performing the basic array of computer tasks — emailing, web surfing, streaming videos, running spreadsheets and word processors, et al — if you know which ones to buy.
Spot Cool Stuff took a look every laptop computer that's available for $300 or less. Here's a review of our three favorites:
• The Acer C720, which, amazingly costs less than $200!
• The HP Chromebook 14, with head-turning looks and a 9-hour battery life.
• The Gateway LT41P04u, which runs a full version of Windows 8 and features a touchscreen.

Acer C720 Chromebook
Pros:
Incredibly inexpensive, good speed for the money, vivid display
Cons:
Average build quality, clunky looks
Discount Price:
$199
Like all Chromebooks, the Acer C720 runs a version of Google's Chrome operating system. That means your software choices are limited to Google's suite of products and the relatively small number of other offerings in the Chrome Web Store.
Working on a Chromebook also means that most of your files and apps live in the cloud, eliminating the need for a lot of internal storage or the need to manually update software. The downside being that you need to be connected to wifi to use most apps. Also, most non-Google versions of Google products aren't available. Instead of Microsoft Word you'll have to use Google Drive. Instead of video chatting on Skype you do it through Google Hangout. But don't worry: Angry Birds remains Angry Birds.
The C720 model is among the least expensive in Acer's C7 Chromebook series. But it doesn't seem cheap. The screen is vivid. The dual-core 1.40 GHz processor, while not exactly blazing, is capable. There's even an HDMI port and video camera.
What's the catch? It's not blazing fast. The display is only 720p (though plenty bright, even for some outdoor use). The build quality is average. And the physical design of the Acer C7 isn't going to impress anyone — though the price certainly will!
Suggested for: Those on a very tight budget; kids; travel; anyone who needs a laptop primarily to surf the web and write email; guest or backup laptop.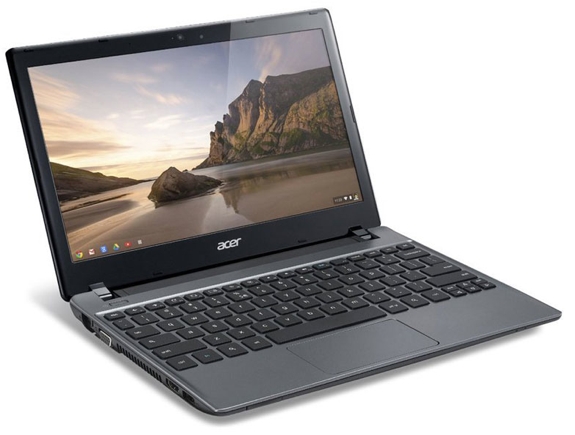 HP Chromebook 14
Pros:
9 hour battery life, large HD display, external design, color choices, free 100GB of Google Drive, boots in 10 seconds
Cons:
Dim display
Discount Price:
$299
The HP Chromebook 14 might be our favorite Chromebook. For around $300 you get an extremely well built, well designed laptop with an HD-quality 14-inch display and a truly full-sized keyboard. We like the sleek form factor (it's less than an inch thick) and light weight (a touch over 4 pounds). Though the processor runs at a pedestrian 1.4 GHz, multitasking apps and browsing the web felt zippy enough to us. Best of all is the long battery life: up 9 hours under real-world conditions.
While some find the HP Chromebook 14′s choice of pastel-y bezel colors — coral peach, ocean turquoise and snow white — a bit too Miami Vice, we like how it makes the laptop stand out from all the other bland offerings out there.
Less enamoring was the brightness of the display. It was fine in low light situations but not bright enough to use outside on a sunny day. And, of course, all Chromebooks come with the disadvantages (and advantages) we outlined for the Acer C7, above.
The HP Chromebook is also available in a 4G version and with an 11-inch display
Suggested for: Avid users of Google software; streaming video; kids; anyone who needs a laptop primarily to surf the web and write email.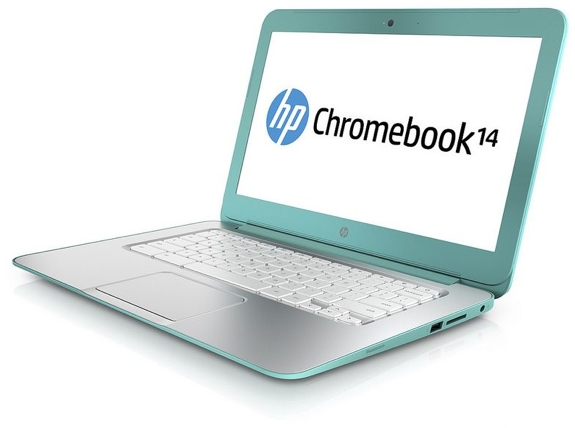 Gateway LT41P04u
Pros:
Touchscreen, thin and light weight, full version of Windows 8 included, decent battery life
Cons:
Slow, poor speaker quality
Discount Price:
$279
Think of the Gateway LT41P04u as a cross between a notebook and a tablet.
Like a notebook, the geekily-named LT41P04u runs a full Home and Student version of Windows 8. It has a hard drive (320 gigs), a surprisingly good keyboard and trackpad, a microphone and webcam. It has one HDMI and two USB 2.0 ports as well as an SD card reader.
Like a tablet, the LT41P04u has a touchscreen, upon which the multi-touch technology can recognize ten fingers at once. The device is also only 1 inch thick and weighs a more 2.4 pounds. But, like a tablet, there's no Ethernet connection.
So why is the Gateway LT41P04u so inexpensive? Because it has only 2 GB of RAM and a blah processor. Together, they are capable of running Word, Excel, PowerPoint (each of which comes included). You can video chat on this computer and even stream HD movies onto a television via the HDMI port. But forget about multitasking or running memory-intensive software.
If that's a downside you can live with, the Gateway LT41P04u is an excellent value.
Suggested for: Budget laptop buyers who don't want a Chromebook; students and retirees; frequent users of Windows Office software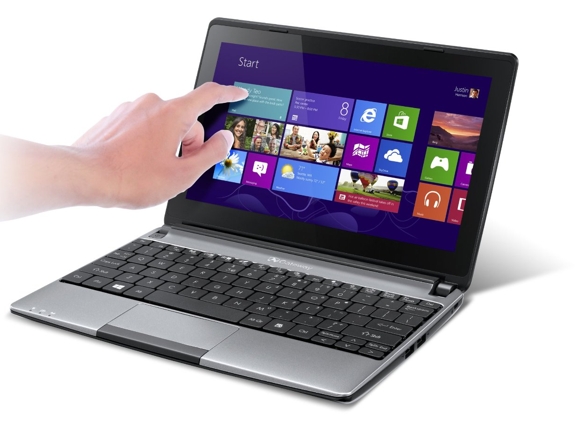 published: 2 April 2014

More from Spot Cool Stuff:
Google Chromebook Comparison: Acer vs Samsung
The Best Tablet Computers for Students
5 Cool, Luxurious, Yet Inexpensive Hostels

JOIN US ON TWITTER / FACEBOOK / PINTREST / GOOGLE+ / LINKEDIN / TUMBLR