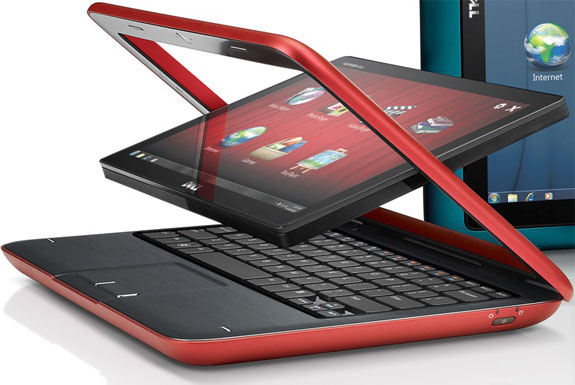 Would you rather have a tablet or netbook computer? That can be a tough choice. Do you choose a built-in keyboard or a touchscreen? Mobiles apps or a full operating system?
Dell doesn't want you to have to choose. Instead, they sought to offer the best of both worlds in their new device: the Dell Inspiron Duo convertible.
When folded open, the Inspiron Duo looks like a notebook. It acts like one too, running a full version of Windows 7 Home Premium. Then fold down the top, flip the screen open, and the Inspiron Duo becomes a touchscreen tablet PC running a mobile version of Windows 7.
Here's Spot Cool Stuff's take on the pros and cons of this netbook-tablet computer:

The Pros



The design! The Dell Inspiron duo convertible converts easily between netbook and tablet modes.

The flip mechanism is sturdy. The entire device feels rugged and of a high build quality.

The 10.1″ screen is above average, producing a display more crisp than it's high 1366 x 768 resolution suggests.

While the camera is only 1.3MP, it's high quality, certainly sufficient for Skype video chats.

Speaking of Skype, the built-in microphone is works surprisingly well, as does the voice recognition functionality.

When it has enough processing power to fully operate it (see "Cons," below) the touchscreen is responsive and easy-to-use.

The keyboard is great—technically 95% the size of a full keyboard but doesn't feel cramped.

It comes standard with a 320GB hard drive (7,200 rpm) and 2GB of RAM—that's not amazing but it is sufficient.

Because the screen can fold inwards towards the screen, you needn't buy a case for the duo as you would for other tablets.

The US$550 price is very reasonable—more than a similarly speced netbooks but less than a tablet PC and much less than a netbook + tablet.





The Cons

It's underpowered. The dual-core Atom N550 processor (1.5GHz/1MB cache) can't smoothly execute tasks like photo editing or online game playing. Urg.

The 30W battery. Supposedly good for 3 1/2 hours, we found only around 2 hours 45 minutes of usable time between charges. Worse, the battery isn't user replaceable; you can't easily upgrade to a more powerful one.

The mobile version of Windows 7 is not elegant. Definitely inferior to Android. Unlike the iPad OS, it does at least run Adobe Flash.

The Duo weighs 3.4 pounds (1.54 kg) and is 1.13 inches (29 mm) thick, making it clunky compared to other netbooks.

There's no on-board optical drive, Ethernet connector or memory card reader, and only two USB slots. For more expandability you really need to buy . . .

. . . the audio dock. It is well designed, but expensive at $100. The JBL speakers on the dock are sub-optimal.

The Dell Inspiron Duo vs Lenovo Ideapad S10-3t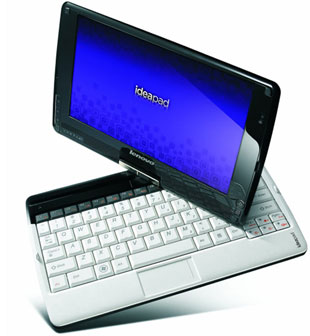 The Lenovo Ideapad S10-3t is the only other mass-market tablet-netbook hybrid on the market today.
The Lenovo is $50 cheaper, a half pound lighter and includes a card reader. However, it has many of the same drawbacks as the Inspiron Duo—including sluggish performance and short battery life—plus a few new ones. The Ideapad S10-3t doesn't have bluetooth and only a 250GB hard drive. Most concerning of all: the turn-and-flip mechanism that converts the Lenovo from netbook to tablet feels very flimsy to us; we wouldn't trust it to survive in prolonged rugged conditions.

Our Verdict
The Dell Inspiron Duo convertible has an undeniably cool look. The screen flip mechanism is smart and the whole device is well built and designed. From the moment we saw the Duo convertible we really wanted to love this netbook-tablet hybrid.
Unfortunately, this love is not meant to be.
As a notebook, the Inspiron Duo convertible is too sluggish to use every day on processor-intensive applications. We'd rather have a Samsung NF310-A01 (which is cheaper than the Duo) or an 11-inch MacBook Air (which is more expensive but oh-so-sweet!). Both of those are lighter, more powerful and offer longer battery life than the Duo. Then again, neither have a touchscreen.
As a tablet, Dell's Inspiron Duo convertible is done an injustice by the Window 7′s touchscreen software, which is clearly inferior to Android or the iPad OS. That issue could be solved with a software update (which we think and hope will happen soon). But a change of software will not make the relatively heavy and thick Duo more portable. For a tablet we'd rather have a Galaxy Tab or Apple iPad. When paired with a bluetooth keyboard both of those can be used as something like a netbook. But either run a full Windows OS.
It is the hybrid functionality that, along with the design, makes us like the Dell Inspiron Duo convertible. There are certainly circumstances for which the Duo would do well. Traveling on an airplane you could work on a PowerPoint presentation in netbook mode and then read an ebook in tablet mode. At university you could find your way to a coffee shop in tablet mode and then finish up a paper in netbook mode. And so on.
The key to being happy with your choice of the Dell Inspiron Duo convertible is setting your expectations a little low. Yes, you are getting some of the best features of both a tablet and a netbook. You are also getting some of the worst.
published: 7 April 2011

LEARN MORE & BUY | JOIN US ON TWITTER / FACEBOOK |




Related posts:
How To Best Configure a New Macbook Pro
Review of the Dell Adamo XPS Ultra Thin Notebook
Acer vs Asus Netbooks
The Nissan Murano CrossCabriolet ← crossover convertible