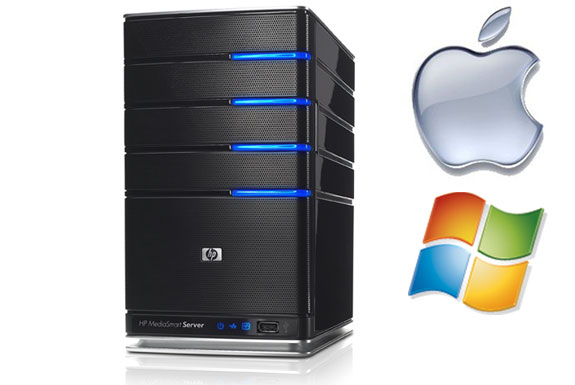 In the United States, nearly 60% of computer-owning households have more than one computer. The figure is even higher in Sweden and South Korea, and nearly as high in Germany, Canada and England. For all those multi-computer households—especially households with a mix of laptops and desktops or a mix of Mac and PC—the HP MediaSmart Server is a very cool, and wise, investment.




Like any external hard disk, the MediaSmart Server can be used to back-up your computer's hard disk and to store space-intensive files like photos, music and videos. That's where the comparisons to your typical external hard disk end. Among the other features of the MediaSmart Server:
Wireless connectivity. If you laptop (or desktop) has wifi you don't need cables to connect to your MediaSmart Server.
Internet connectivity. You can plug your MediaSmart Server into your cable modem and access it from anywhere online. You can also grant others access to your MediaSmart Server and set permission levels for each person. Working remotely on a collaborative project? You can let your workmates share files in a project-related folders on your MediaSmart Server while keeping the remainder of the files private.
Mac and PC compatibility. The HP MediaSmart Server works across the Capulet-Montague divide of the computer world.
Automatic backups. For PCs the MediaSmart Server comes with automatic backup software. For Macs the server integrates with the Time Machine backup system built into the OS. And if your MediaSmart is hooked up to the internet you can backup your computer from anywhere you have an internet connection.
In-home and remote media streaming. Music, videos and photos can not only be streamed onto your computer but also onto your television via a console such as Xbox 360 or PlayStation3.
File syncing and sharing. Let's say you do some of your work on your desktop and some on a laptop. Through the MediaSmart Server you can set it up so both computers will always have the most current files. Perhaps coolest of all, the MediaSmart can coordinate the photo, music and video collections from several computers. All of your computers can now play songs from the same iTunes collection and store photos in the same program.
There are several models of HP MediaSmart Server available; Spot Cool Stuff is partial to the EX487 model that comes with two 750GB hard drives (so, 1.5TB total). And in case that's not enough storage for your needs the EX487 has enough room to expanded to a total of 9TB (!) of data. The HP MideaSmart Server is not cheap, though Amazon's current 30% off deal makes it awfully difficult to pass up something so useful for syncing your digital life.

Purchase locally in: USA | UK | GERMANY | FRANCE | CANADA
Related posts:
A Review of the Sonos Multi-Room Music System – Play music, wirelessly, rhroughout your house
Wireless Arc Mouse
Acer vs Asus Netbooks
A Review of the Shuttle D10 – The cool media center that happens to be PC
The Fastest Mac Ever




LEARN MORE & BUY (and save $75)
| FOLLOW US ON TWITTER