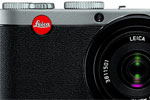 spot cool stuff TECH
For much of the early and mid 20th century Leica was the world's most stylish and sophisticated camera manufacturer.
The father of modern photojournalism, Henri Cartier-Bresson, used a Leica camera for his work. While covering World War II he was found himself on the verge of being captured by the enemy. Not only did Cartier-Bresson bury his Leica to prevent it from falling into Nazi hands but made the dangerous mid-war journey to retrieve it after escaping from a POW camp!
In 1954 Leica introduced the M series, which almost single-handedly gave birth to the class of "professional amateur" photographer. Leica's M cameras allowed for serious photographers (including the grandfather of Spot Cool Stuff) to purchase equipment very much like what high-end photographers were using but at a fraction of the price.
---