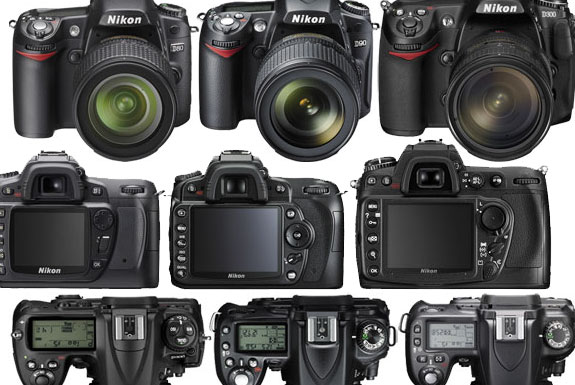 Nikon doesn't make it easy for consumers to decide which of their cameras to buy. The company produces many different models of SLRs with overlapping feature sets. And the model numbers doesn't have a logical progression to them. What camera novice would guess that the Nikon D200 would be a more advanced camera than the D60 but less advanced than the lower-numbered D3?
To help sort through the options we took a close look at the three most popular Nikon SLR camera models on the market today: the D80, D90 and D300. Which one is best for you? Read on . . .




Camera Body Build & Design
There's something about the Nikon D80 and D90 cameras that just feels right. Both cameras are the same size—5.2 inches high, 4.1 inches wide, 3 inches deep (132 x 103 x 77 mm)—though they are proportioned a little differently and the D80 is 1.3 ounces (35 g) lighter. The ergonomics of both are great, especially on the D90. If you were to pick up and handle either a D80 or D90 you would conclude that the build quality was very solid . . .
. . . until you compared it to the D300.
The Nikon D300 feels exactly like a professional camera should. While the D80 and D90 are made from polycarbonate and D300 is forged from a rugged magnesium alloy. Crucially, the D300 includes enhanced weather protection. And the difference is more than skin deep: The D300 is made from superior parts giving it a shutter life expectancy that's 50% longer than that of the D80/90.
In short: the Nikon D80 and D90 are well built cameras. The D300 is built even better.
Compared the D80 and D90, the D300 is a half inch (14mm) wider and taller but slightly more narrow. The D300 also weighs almost 8 ounces (more than 200 grams) than the D90.

Features
Nikon took their very good D80 camera and added several new features to create the D90. Arguably, the most significant of these is a higher resolution processor (the D90 shoots at 12.3 megapixels versus the D80′s 10.2), a live view mode, a significantly brighter (and slightly larger) screen, a dust cleaning sensor, and the ability to shoot video. There are no features the D80 has that the D90 doesn't.
Nikon D300 is even more feature-rich. The D300 has in-camera vignette control, 9-frame bracketing, a built-in intervalometer and a PC Sync port for external lighting—none of those are found on the D90. Compared to the D90, the D300 also has a more sophisticated metering sensor, an auto focus system that functions on 51 points (versus 11 on the D90), RAW files recordable with 14-bits of tonal detail (the D90′s is 12-bit), 6 frames per second of continuous shooting (4.5 fps on the D90) and 100% coverage on the viewfinder (compared to 96% on the D90). These upgrades are likely to be important to you if you are a professional. They are not likely important to an amateur.
The major feature the D90 has that the D300 doesn't is the ability to shoot in video. Though the D90 can not auto focus in video mode and the video quality produced by the D90, while certainly watchable, is not particularly impressive to us. The D90 shoots video at a choppy 24 frames-per-second compared to the 30 fps most portable video cameras shoot at. Check out this sample video:

A summary of some of the most important feature differences between the Nikon D80, D90 and D300:
Feature
Nikon 80D
Nikon 90D
Nikon 300D
Price (body only)
US$1000, but only $900 with kit (!)
US$900
US$1,500
Effective megapixels
10.2
12.3
12.3
ISO range
100 – 1600 (3200 expanded)
200 – 3200 (100-6400 expanded)
200 – 3200 (6400 expanded)
Screen
2.5-inch, 95% frame coverage, 230,000 pixels
3-inch, 97% frame coverage, 920,000 pixels
3-inch, 100% frame coverage, 920,000 pixels
Weight (with battery)
668 g (23.5 oz)
703 g (24.8 oz)
925 g (32.6 oz)
Image sensor /
Processor
CCD (not self cleaning) /
Standard Nikon
CMOS (self cleaning) /
EXPEED
CMOS (self cleaning) /
EXPEED
Optional GPS
No
Yes (with GP-1 unit)
Yes (with GP-1 unit)
Video capability
No
Yes (at 24 fps)
No
Auto focus points
11 points
11
51
Continuous shooting
3 frames per second
4.5 fps
6 fps (8fps with MB-D10 grip)
Live view
No
Yes
Yes
Memory card type
SD
SD
CompactFlash (types I and II)
Feature
Nikon 80D
Nikon 90D
Nikon 300D
Body /
Weather protection
Polycarbonate /
Okay quality
Polycarbonate /
Okay
Magnesium alloy /
Excellent
Start up time /
Shutter lag
.18 sec /
80 ms
.15 sec /
65 ms
.13 sec /
45 ms
Shutter durability
100,000 exposures
100,000
150,000
On-camera editing options
D-Lighting
Red-eye correction
Trim
Monochrome
Filter effects
Colour balance
Small picture
Image overlay
D-Lighting
Redeye correction
Trim
Monochrome
Filter effects
Colour balance
Small picture
Image overlay
RAW processing
Fisheye
Distortion control
Quick retouch
Straighten
D-Lighting
Redeye correction
Trim
Monochrome
Filter effects
Colour balance
Small picture
Image overlay
HDMI output
No
Yes
Yes
Lateral chromatic aberration & peripheral illumination correction
No
Yes
Yes
Battery Life
approx. 600 images (without a flash)
approx. 850
approx. 1,000
Feature
Nikon 80D
Nikon 90D
Nikon 300D

Picture Quality
The Nikon D90 and D300 both have upgraded image processors compared to the D80. So we expected both to have similar photo quality to each other and both to be superior to the D80.
In actual fact, the D90 and D80 take virtually identical photographs. At higher ISOs the D90 produces very slightly less noisy photos. That's the only difference.
There is some difference in image quality between the D90 and D300. At lower and mid ISOs the D90 produces a higher contrast image, the D300 captures a bit more detail and sharpness on a per-pixel basis. Some people like the contrasty results of the D90 but Spot Cool Stuff greatly prefers the D300 for one simple reason: Contrast can very easily be added in the post-processing, image details can not be.
At higher ISOs, the images from the D90 are maybe slightly less noisy than those from the D300.
Add it all up and there's some difference in the quality of the images produced by the D80, D90 and D300. But not much. Certainly, the difference in image quality is tiny compared to the differences in build quality, feature sets and price.

Conclusion & Recomendations
First things first: We see no reason to buy a Nikon D80. None. The only advantage to the D80 is that it weighs slightly less than the D90. At the moment, the D80 isn't even less significantly less expensive than the D90. And it would have to be much less expensive—$400~$500 less expensive—for us to even consider the D80. If you are looking for a small, light, inexpensive SLR camera then you'd be much better off with the excellent Olympus Evolt E420. (Read our review of it here.)
Between the D90 and D300 our recommendation is . . .
Yes, the D300 is about 50% more expensive than the D90. Consider that the D300′s shutter will last 50% longer, that the D300′s considerably more rugged and weatherized body will last more than 50% longer and that the D300 has a more professional feature set and can shoot more photos between battery recharges. Add together those benefits and it seems clear to us that the D300 is worth the extra investment. This is particularly true if you are looking for a camera that you expect to be using many years from now.
Some people are drawn to the D90 by its video capabilities. We would discourage you from being one of them. Yes, it is cool to be able to shoot video on an SLR. But the 24 fps video quality is less-than-outstanding; the D90 does not auto focus in video mode. If you want to shoot video you'd be much better off selecting an SLR based on its ability to take still photos and then pairing your camera with a $200 Flip Mino HD (read our review). The Mino shoots HD-quality video at 30 fps, better than the D90. And the Mino is highly pocketable—you can bring it with you in circumstances when having an SLR camera is not practical.
There is one group for whom we would recommend the Nikon D90: those with a very tight camera budget for whom the extra investment in a D300 would result in buying a lower quality lens. If you are in this category, you'll get better photographs selecting the D90 and then putting the $500 you would have spent on a D300 to use buying a higher quality lens.
For more on that, read our review of the best Nikon lenses.
NIKON D80: BUY BODY ONLY | CAMERA & KIT (18-135mm lens) | BEST MANUAL | CHEAT SHEET
NIKON D90: BUY BODY ONLY | CAMERA & KIT (2 lenses + more) | BEST MANUAL | CHEAT SHEET
NIKON D300: BODY ONLY | CAMERA & KIT (2 lenses, case + more) | BEST MANUAL | CHEAT SHEET
Buy local in . . .
THE UK: D80 | D90 | D300
GERMANY: D80 | D90 | D300
FRANCE: D80 | D90 | D300
JAPAN: D80 | D90 | D300
Related Spot Cool Stuff posts:
The Best Nikon Lenses
The Canon 40D and 50D Compared
Megapixels To Photo Print Size Ratio
The Best Camera Backpacks